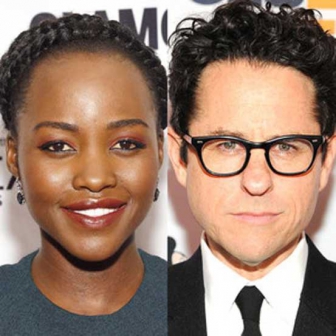 Star Wars director JJ Abrams has lashed out at rumours that he's edited down Lupita Nyongo's role in the highly-anticipated movie, Star Wars: The Force Awakens.
The director revealed that he had seen rumours that he had edited her role down because she wasn't "satisfactory", a claim which he vehemently denies.
Earlier this week, The Sun reported that JJ Abrams had "massively cut" the Oscar-winner because "there was a general sense that something wasn't working".
J.J. Abrams hopes 'Star Wars: The Force Awakens' is as much a female-friendly film as it is for "boys".
Upon hearing of the report, Abrams told Page Six that the rumours were not true.
"The number of rumors floating around about The Force Awakens is truly stunning. Some are wonderfully funny, others simply preposterous," he said in a statement.
"But the only one more ridiculous than Jar Jar Binks being a Sith Lord is that I cut Lupita Nyong'o's performance because it wasn't satisfactory."
Of the 12 Years A Slave star, who plays Maz Kanata in the movie, he continued: "In truth, her performance wasn't satisfactory. It was spectacular. She has brought the character of Maz Kanata to life in the most wonderful, wise, touching, deep and funny way.
"Lupita never ceased to amaze me. Yes, we tried many approaches, and we finally landed on just what the film needed. She elevated all the scenes she is in, I'm forever grateful, and can't wait for people to see her stunning performance."
The actress revealed how she managed to land a role in the hugely awaited film and how the top secret script was flown to her on holiday.
"I was on the way to the beach and all of sudden J.J.'s on the phone. I asked to see the script and they flew someone to Morocco with the script so I could read it," she previously explained.
"I was immediately interested in the character. I like to get lost in the transformation and I felt like this character would offer me that."