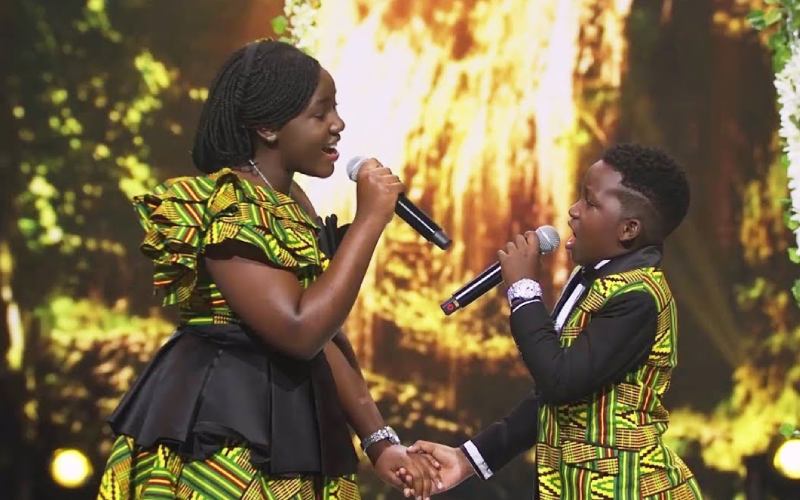 East Africa's Got Talent Season One winners, siblings Esther and Ezekiel Mutesasira from Uganda, have said that they are yet to receive the cash prize of Sh5million won in the 2019 competition.
Opening up on their Facebook page, the duo said they have tried to claim the money with no success.
"It is you that did vote for us, we had lost hope but by God's grace, we won EAGT competitions. Today we still haven't received the winner's prize money, it's very sad. 2 years of wait. Hey beloved ones, we are beyond frustrated. We are writing this to seek speedy resolution to the delayed release of East Africa Got Talent $50,000 cash prize that was supposed to be given to us winners," they wrote.
Although glad of the opportunity given to them by EAGT competition, the young gospel musicians explain that no one from the talent show had reached out to them to follow up on the matter. They said they have failed to honour charity promises as a result. 
"Don't get us wrong, its (sic) been such an amazing experience, very humbling, inspiring other young kids and all the amazing people we've met along the way. While we appreciate the platform EAGT gave us, it is their duty as well to fulfill the promises.
"This is a serious concern to us as the funds are delayed, no one from EAGT has reached out...like you recall, we promised to donate some of the money to different charities and wouldn't want to make empty promises! Sorry, we had to shed some light on this," they added.
Winning EAGT
The season which took place in Kenya was divided into four phases namely; preliminary auditions held in major participating cities; theatre auditions where contestants perform their acts and the judges rate them; deliberations among the judges to come up with the best 18 contestants, and live shows where the final six contestants were chosen to proceed to the finale.
For their final lap, the duo performed a moving performance of Whitney Houston and Mariah Carey's song, When You Believe, sweeping fans and judges off their feet and emerging winners. The show's judges were Kenyan media personality Jeff Koinange, Tanzania songbird Vanessa Mdee, Rwanda's DJ Contact Makeda and Ugandan actor and media personality Gaetano Kagwa.
After their win, Ugandan President Yoweri Museveni took to twitter to congratulate the siblings.  
"My grandchildren have told me about our talented bazukulu Esther and Ezekiel, who have won an East African Talent competition this evening. I am told they are very good singers. I congratulate them," wrote Museveni.
Ugandan musician Bobi Wine also applauded the duo for their effort.
"I've personally watched and followed the #EAGT show but in bits because of busy schedules and I must say I was impressed by Esther and Ezekiel. You outdid yourself and the win was indeed well deserved. You made Uganda proud," wrote Bobi Wine.?