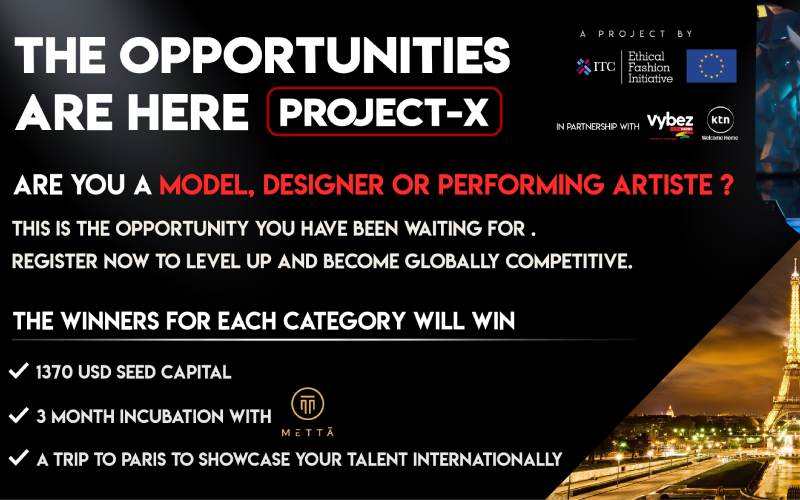 We forgot to add a warning when we told you about "The Opportunities are Here- Project X". Here it is.
"You may win fabulous prizes!"
Now, you have been warned.
But seriously, this is the opportunity for every creative to jump into the Project X pool and this just may be your chance.
So what do you stand to gain when you apply to participate?
Let us list some benefits.
Visibility: Go from unknown to renown in just a few weeks. Kenya will be watching our stage; and you'll want to be on it.
Training: Obtain Industry knowledge from the best, for free, in the convenience of your own home. For the winners, enjoy 6 months at Metta Nairobi
Networking: Project X is Pan African and you have the chance to meet creatives from other countries on the continent.
Money!: Yes, there is an exclamation mark because we understand that money oils the creative machine. In this project, there are cash prizes for the best six ranging from 280 USD to 1370 USD.
Paris: This is your chance to visit the City of Lights. The winners shall be hosted in the timeless city, and be part of an international event in February 2022
And there is a second warning.
You don't have all the time in the world. Entries close on 22nd October. Why miss an opportunity like this? Click on the link to register in our bio, get up to speed with the call for entry and apply quickly.
And you are just in time to watch the first live Selection starting on Tuesday 12th October at 3pm Live on Instagram @opportunitiesarehere and Facebook @theopportunitiesarehere. Register, submit your video and tell all your friends about it.
You may just win. Don't miss out!
The Opportunities Are Here Project X is a programme of @ethicalfashion in partnership with @eu_partnership[1]