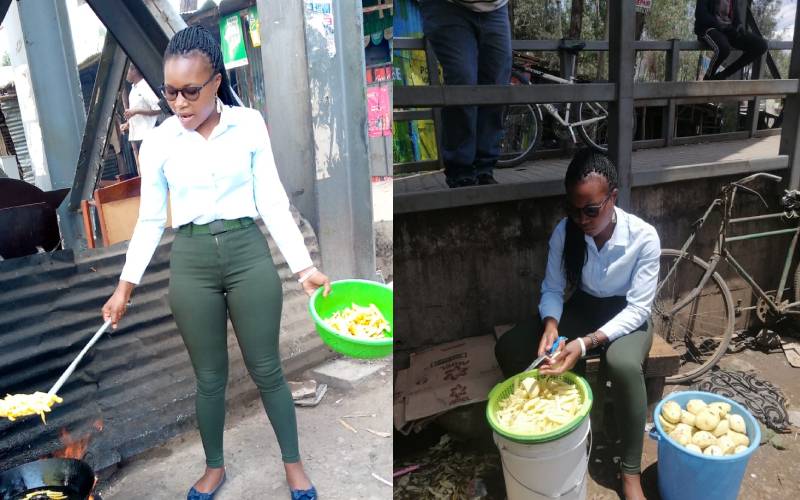 Bevalyne Kwamboka, a chips vendor in Kware, Embakasi South has been warned by the Kenya Urban Roads Authority (KURA) for setting up a business in an area designated for pedestrian passage.
Through a tweet, KURA labeled the business as 'illegal and an infringement to pedestrian rights.'
It all started when one netizen tagged the authority on a tweet where Bevalyne was seen preparing fries.
"KURA are these activities legal?" he asked. To which KURA responded: "This is illegal and an infringement to pedestrian rights…The footbridges and walkways are meant for Pedestrian passage and not any form of business."
This, however, did not go down well with a section of Kenyans online who asked KURA to focus on more pressing issues instead of going after a woman who is trying to make ends meet.
Raju Davil: Before you visit her, please restore Muthurwa footbridge and many others which are a haven to criminals and chokoras, stop being cheaply influenced by ill minded people.
Jacob Abere: Whichever Answers Thy Give on @bevalynekwambo3 and business location, let KURA  @KURAroadsclear those underpass of Muthurwa, Outer-Allsops and along Pangani, before you pick this.
Muli: Maybe illegal but very legitimate. We can always coexist with Kenyans who are trying to eke a living even if they have to setup shop by the roadside.
On Thursday, Bevalyne accused Nominated Senator Millicent Omanga of using her for political clout, and, thereafter, abandoning her with little or no donation at all.
On Monday, October 4, Senator Omanga had tweeted that she had donated, among others, branded umbrellas, aprons and money to Bevalyne to "expand her business".
Kwamboka said, given she wasn't handed over the cash at the scene, she later texted Omanga's personal assistant to enquire about the money the senator had talked about in her tweet, but the PA denied being given any money to donate to the trader.
However, in a quick rejoinder on Thursday afternoon, Omanga denied being crafty in her politics and refuted allegations that she used Kwamboka for political mileage.
"When it was brought to my attention, that Kwamboka had publicly requested for an umbrella to help shield her from rain and sun as she does her chips business, I immediately dispatched my team to visit her and offer her the help she needed," Omanga said on Twitter.