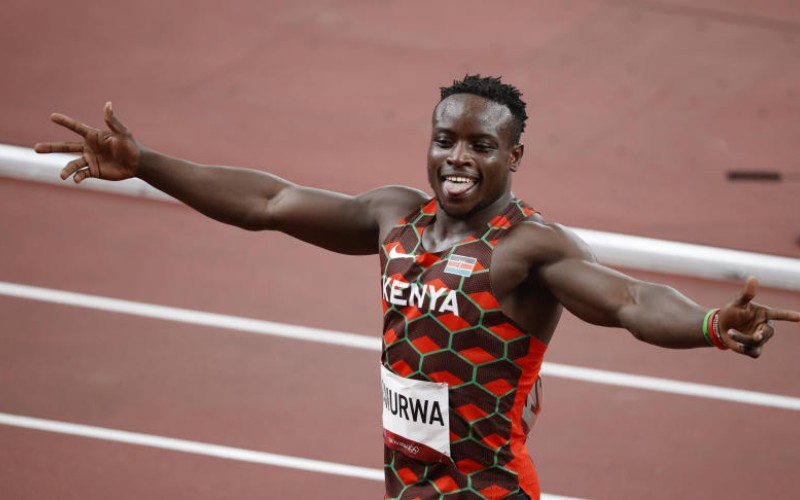 Fresh from smashing the 100m national record in the Tokyo Olympics, sprinter Ferdinand Omanyala is back in the country full of confidence that he can achieve even more.
Speaking during an interview with Standard Entertainment, Omanyala, who narrowly missed out on a spot in the 100m finals said mental strength is the key to his outstanding performances.
The sprinter, who set a new national record of 10.00 in the semi-final, competed against perennial names such as Jamaica's Yohan Blake and Canada's Andre de Grasse.
"It has been a journey of ups and downs and I believe it shaped me to be what I am today. The challenges I have faced in my career have certainly made me better.
"When I set out to compete for 100m so many people discouraged me but my eyes were fixed on the prize. Some even asked me to stick to rugby," he said.
Asked about representing the country in the Olympics, Omanyala said it was a dream come true and he enjoyed every bit of it despite being surrounded by renowned stars.
"I was having fun…once I entered the stadium, lining up with the top cream of athletics…that was an achievement on its own.
Academics
Unknown to many, Omanyala is a Bachelor of Science in Chemistry student at the College of Biological and Physical Sciences, University of Nairobi.  
He admits that balancing the two- athletics and school- is not easy as they both demand a significant amount of effort.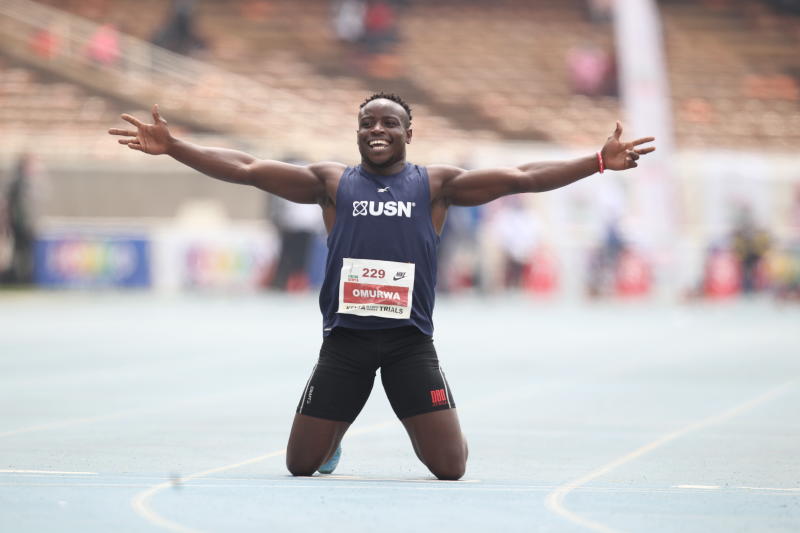 "I attend lectures when there are no competitions. We are getting into the off-season so I will complete a few semesters before the season resumes.
"Chemistry is not easy but I believe I am up to the task," he said.
Love life
Omanyala, 25, said he is currently in a serious relationship and has a child who turns three later this year.
Career path
He discovered that he was a speedster when he was playing rugby in both high school and at the UoN's Mean Machine. Upon this discovery, he started training in 2015.
The following year, he made his debut in 100m in Mumias during one of Athletics Kenya's weekend meetings.
His love for athletics blossomed as his rugby career faded. "The highlight of 2016 was when I raced in Kipchoge Keino Stadium and I broke the record. I was a newbie and yet I defeated more decorated stars such as Mark Otieno," Omanyala said in an interview earlier this year.
In 2017, he represented the country at the World Relays in the Bahamas where Kenya reached the finals.
Omanyala's athletics career would, however, face a devastating blow in August 2017 after he was banned for 14 months after testing positive for a banned substance.
"It was a painful moment because a doctor prescribed painkillers that had steroids after I suffered an injury and I failed to declare it. I even forgot the name of the drug that almost ended my career in athletics," he said.
In 2018, the doping matter was resettled and Omanyala was welcomed back to the athletics family in November that year.
He is now focused on doing even better and smashing his own record as he attempts to be one of the regions greatest sprinters.