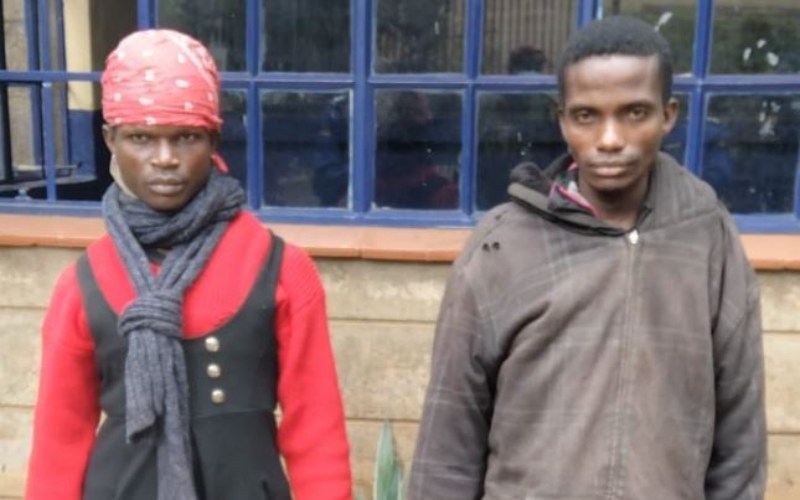 A male suspect posing as a woman was on Monday arrested by detectives in Lang'ata after defying orders to stop.
Peter Omweno Momanyi, 24, donning a suspender dress and a headscarf, was in the company of his accomplice John Muchiri, when an officer who came across them noticed something was amiss.
The two were ordered to stop but attempted to flee after realizing they had been busted.
"He (the police officer) turned back and ordered them to stop but they defied the orders and took to their heels.
"Unbeknownst to the thugs, they had just encountered the lanky, young crime busters based at Langata Police Station, whose speed and proficiency in chasing after thugs is unsurpassed," tweeted the DCI.
The two were arrested a few metres past the Mbagathi bridge and crude weapons recovered from them.
"Momanyi was found in possession of a knife and a chain, carefully concealed on his waist. Detectives based at Langata have established that the two are among suspects who waylay fitness enthusiasts who jog along Langata and Mbagathi roads early in the morning and late in the evening," added the DCI.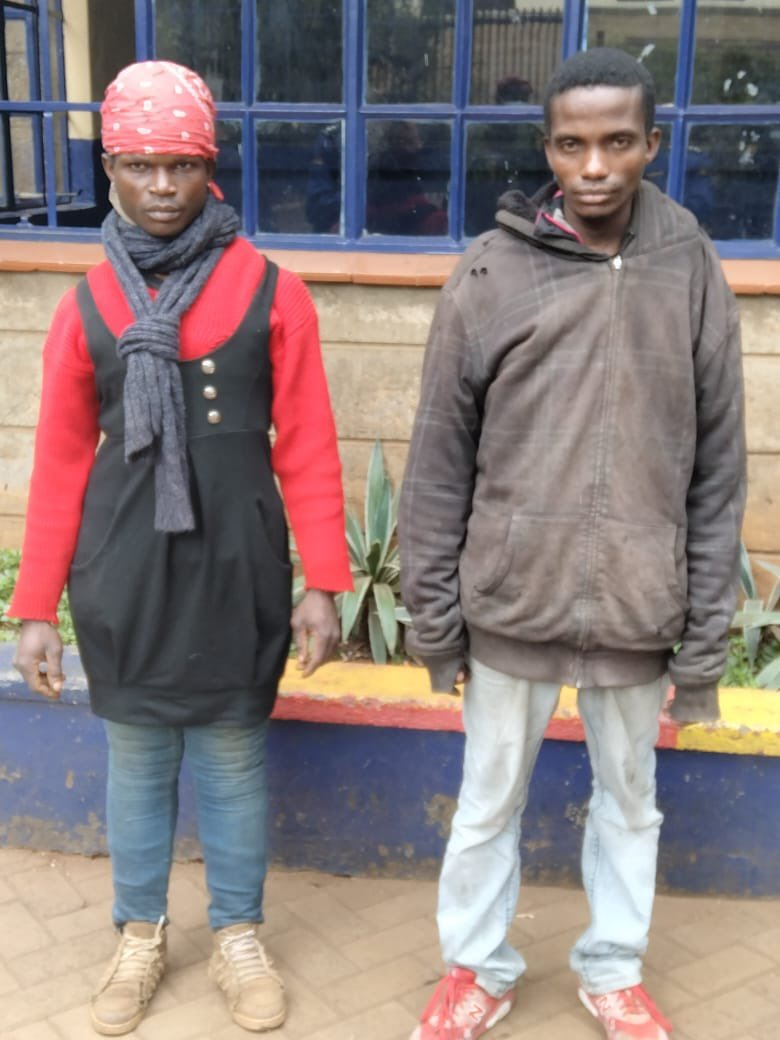 Of late, criminals have been using all sorts of tactics to conceal their identity and just a fortnight ago, Charles King'ori aka Delvin Maina, a suspected kidnapper who had braided his hair, was arrested following a dramatic chase that was witnessed by the public.
He was pounced on as he tried to escape on a motorbike and police thanked all those who gave information leading to his arrest.
"King'ori has been arrested as he tried to escape our dragnet, a few hours after the baby he had kidnapped was rescued. So desperate were his attempts to escape justice, that he had visited a salon in the town to have his hair braided to conceal his identity," revealed detectives.
Baby Liam Ngucwa Mwangi, 4, is believed to have been kidnapped by King'ori, his grandparents' houseboy.
The minor had been missing for five days and was found at a house in Naivasha by officers from the Directorate of Criminal Investigations (DCI) after a thorough search was conducted.