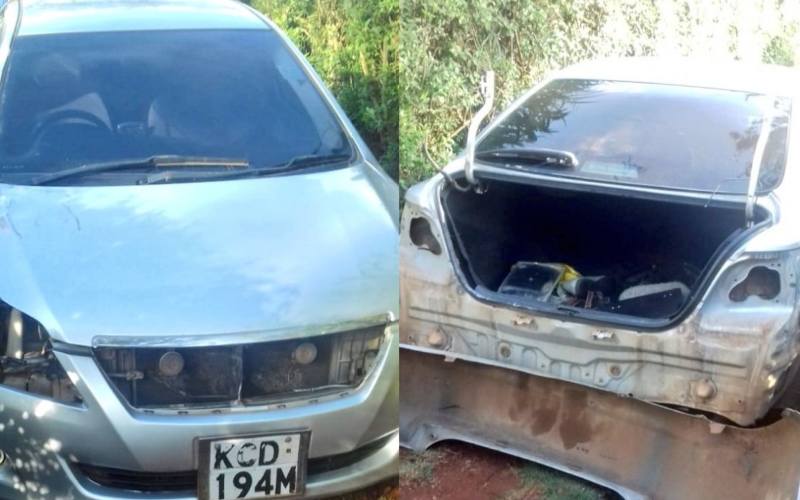 Detectives in Kiambu are looking for a dangerous gang that specializes in car theft and vandalism. This is after a Ruaka resident was carjacked on Friday as he got home from work.
According to the DCI, three assailants pounced on the victim as he pulled over at his apartment's gate and smashed the driver's window with an iron rod.
They then fired two shots in the air but the man forced his way into the parking lot. The gang caught up with him and roughed him up before grabbing his car keys and phone.
"They immediately drove off towards Ndenderu. On receiving the report, DCI detectives based at Kiambaa immediately swung into action & launched a manhunt for the suspects.
"A few hours later, detectives found the stolen vehicle abandoned in Kagongo village, having been extensively vandalized," read a tweet by the DCI.
The rear and front headlights, side mirrors, all tyres and the radio had been stolen in just a matter of hours.
It has emerged that the gang has been targeting taxi drivers while posing as customers.
In February, members of a five-member gang that had been terrorising cab drivers around Githurai, Ruiru and Kirigiti were arrested.
According to the DCI, one of the gang members often poses as a client then later squeezes the driver's neck from behind.
"So organized are the gang members, that one of them poses like the usual cab passenger but once inside the cab, he squeezes the driver's neck from the back seat and commandeers the car to a secluded area where his accomplices join him," revealed the DCI.