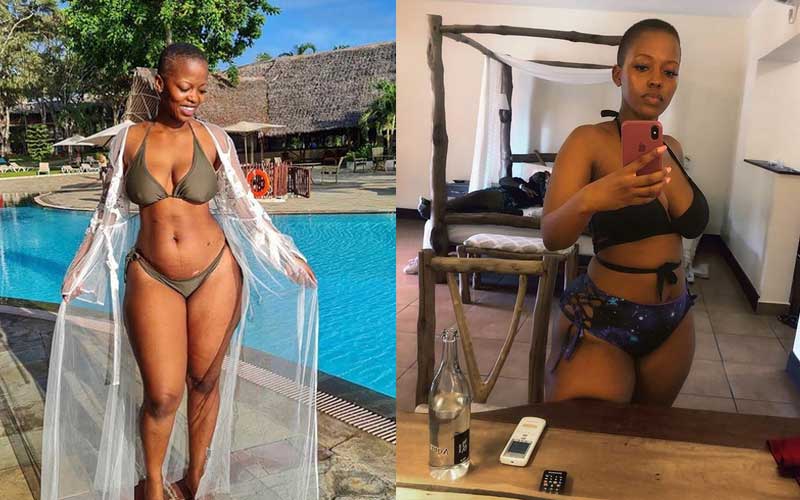 Since giving birth to her son, lawyer turned socialite Corazon Kwamboka has been subjected to online bullying and body shaming.  Unfazed by critic's opinion, Corazon who recently took a trip to Mombasa for some downtime with her boyfriend, fitness trainer Frankie Kiarie posted photos in a bikini. As expected, a section of netizens commented on her mummy tummy and how much her physical appearance has changed since giving birth. Responding to the comments in a separate post, the Genio Sportswear CEO stated that it was extremely hard for her to post the picture in the first place, knowing that she was putting herself out to the world. She was, however, pleased by the women who stood up for her in the comments section and told off critics.
READ ALSO: Corazon Kwamboka reveals how life as a socialite has affected her law career
"On Sunday I posted a photo in a low cut bikini and got a ton of support from women/ mothers, I would love to appreciate you all. Posting a picture filter free and to be vulnerable in front of a cruel world isn't the easiest thing to do, but when I see women standing up against bullies and ignorant comments, and also seeing women say how encouraged they are to see that we all have struggles with our bodies, it makes it all worth it," she wrote.
Corazon unapologetically stated that she is proud of how she looks considering she has battled endometriosis and birthed a child. 
"There were also a few ignorant comments from the a few sad women. But from the kind of comments they wrote, I believe it was just an effort to make themselves feel better by pointing out my imperfections. I am an endometriosis survivor and I'm proud to wear my scars. I also just birthed a baby (CS mom) and I think I look damn great."
Not too long ago, trolls camped on Frankie's Instagram page after he posted a picture with Corazon. According to naysayers, Corazon's visible stomach was unsightly and they wanted Frankie to train her to get a flat stomach. Using the picture as reference, Corazon advised moms not to give into pressure because of insignificant people's opinion.
READ ALSO: I earned my campus grades, Corazon Kwamboka
"Imagine three months after having a CS birth, I dress up and I feel good to hang out with my mans just for a woman to come and attack me because of my tummy. Anyway, I look good, hey new moms, embrace your new body, nothing wrong with that pouch. If it disappears good, if it doesn't it's still okay. You have performed a miracle, literally went to war. Don't expect to come home with no scars," she wrote.
Endometriosis scare
Before conceiving, Corazon admitted to being scared of the thought of not being able to have a child because of her condition.
 "If someone told me January last year that I'd be feeling you kick deep in my belly at the sound of your father's voice, I'd most definitely think they were deranged! Endometriosis had crippled my dreams of birthing a child. But here we are. A pleasant and welcomed surprise. I can't wait to meet you. Hold you and teach you everything I know," she wrote.