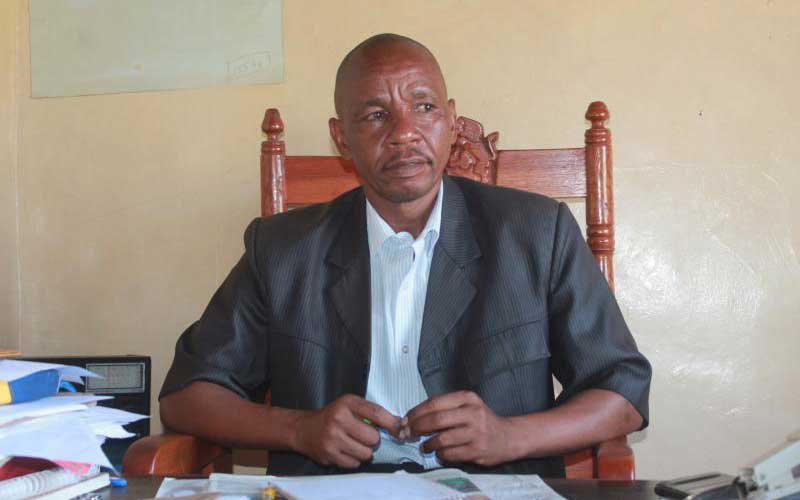 A chief in Homa Bay County has taken it upon himself to discipline randy couples. Bob Lang'o, the chief of Arujo location in Homa Bay canes anyone who is caught having sex in public or sleeping with someone's spouse. The no-nonsense chief, feared by many, says the spread of HIV in the area is rampant and he wants to change peoples' behaviour.  He claims he has resorted to this strange method of punishment since most residents are notorious and vichwa ngumu.
"The spread of HIV is very high. I want to teach residents a lesson. Most of them are married people and that annoys me. I don't want to be loved. They have to stop this promiscuous behaviour," he warned. 
READ ALSO: Randy Nyerians turn tea bushes into green lodging
On December 12 2017 after the Jamhuri Day celebrations, Lang'o shocked many when he caned couples who were found having sex in the stadium at night. They were all arraigned at the stadium where each got a stroke of the cane. It is alleged the chief laid a trap for them after he got a tip-off from residents.
 "I had received many reports about it. That evening, I organised a raid in the company of an assistant chief from Homa Bay Town location and found them in the act," said Lang'o, adding that, "It is a shame. Which adult in his right mind does such a thing? We collected so many used condoms the following morning," he revealed.
Lang'o warned residents that anyone caught having sex in public will be arrested. Area residents Charles Juma and Edward Ode lauded the chief's efforts to discipline randy couples.
"Having sex in the stadium is very weird and something that is becoming very common. He had to cane them to show that he was seriously and strongly opposed to the behaviour," said Juma.
 Ode added that most couples opt to have sex in the stadium because it is cheaper and convenient.
READ ALSO: Tales of randy men who 'feast' on naked lovers in bedrooms, bathrooms
"It has been discovered that many married men and women have sex in the stadium to avoid being busted by their spouses," he added.
This is not the first time cases of couples having sex in the open have been reported.
In 2011, social media was abuzz with photos of couples making out and doing the dirty at Kakamega's main park. Residents had turned a bench made of bamboo at Muliro Gardens into a love bed and used the park as a 'lodge.' Pictures of couples having sex on the bench sparked a lot of criticism. After the media exposed the 'day lovers' at the park, church leaders went to the site to cleanse the bench with prayers.  Today, a fenced Muliro Gardens is strictly monitored by county askaris with nothing unbecoming to note.
"The price of a room is very affordable in Kakamega. I don't understand why they would opt for the bush instead of using the available rooms," a local lodge manager in the town said.