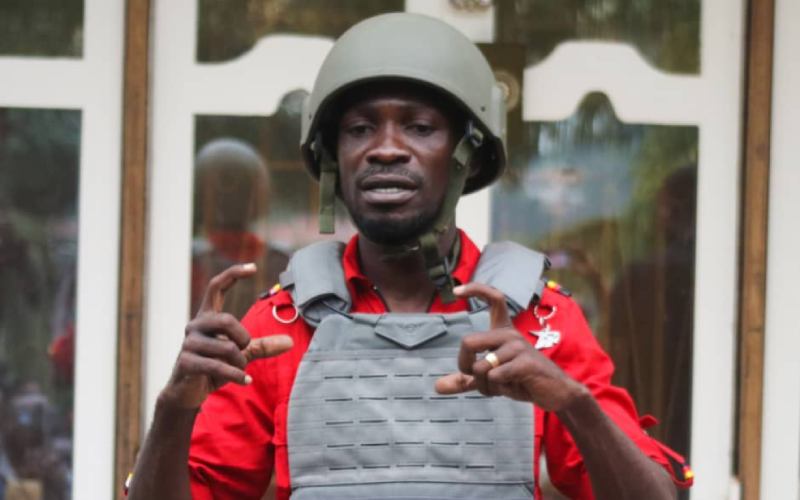 "When the going gets tough, that's when the tough get going," goes a common adage immortalized in Chronixx's hit Ain't No Giving In. It seems Ugandan opposition figure and former singer Bobi Wine is living by this mantra following a crackdown on his campaign by security forces. A day after accusing police officers of shooting at his vehicle during presidential campaigns, the 38-year old has resorted to wearing a bulletproof vest and helmet. The singer shared photos donning the new outfit on his social media accounts, eliciting mixed reactions from netizens. In the photos, Bobi is seen wearing a grey kevlar vest with a matching helmet while holding his right hand up in a clenched fist, a gesture synonymous with the National Unity Platform(NUP) party supporters seeking to end President Yoweri Museveni's 34-year reign.
READ ALSO: Rift between Museveni and Bobi Wine widens, plays out in fiery interview
"Even though I walk through the valley of the shadow of death, I will fear no evil, for the Lord is with me!" Bobi captioned the photos.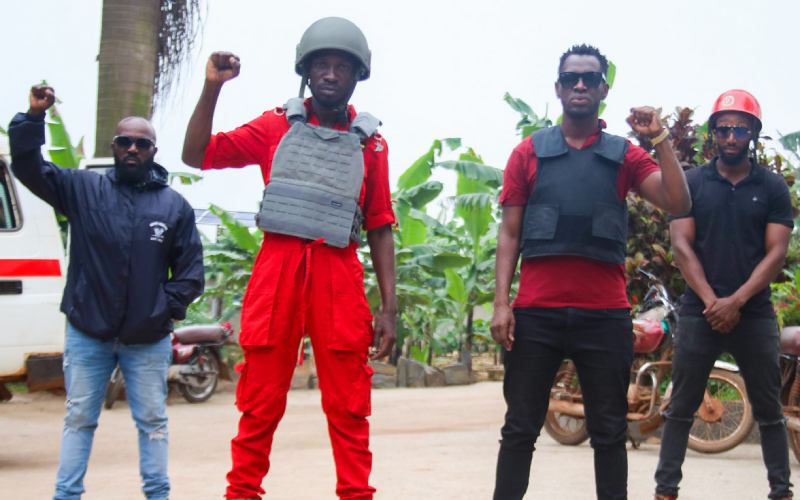 While some netizens offered tHe father of four words of encouragement, others were of a different opinion:
Taking precaution isn't necessarily a sign of fear, but preparedness.
If that guy died now, many others will die in the accruing riots, so to save the others he gat to save himself first.
That's simple logic lad. — omugeye w'ekyagwe (@digodagod) December 3, 2020
Your family has become a hope for a whole people. Your daughter will find only good things about her parents in the history books. We won't give up until all 25,000 political prisoners are free. — Kiguddu Sulaiman (@KigudduS) December 3, 2020
Bobiwine u can't wear a bullet proof vest when people who are going to be following u aren't wearing non we all need u safe but same to all those who follow.this won't work and it will back fire — #stoppoliceBrutalityinuganda (@Godiver2) December 3, 2020
Don't think Uganda started yesterday

— Matua Job Richard (@JobMatua) December 3, 2020
Jimmy Spire Ssentongo Did you get police permission to wear a bulletproof vest? This is a criminal act. You are obstructing security operations
Muhammad Abdul Rashid After seeing this photo, I remembered the day my mother took hot tea when I was in the stomach. I was about to faint and honourable, where you are going seems to be hot.
Mailu Mulwa Bro, you have a heart of steel. I respect you bro.
READ ALSO: Crucial nomination documents missing after police raid, cries Bobi Wine
Smear campaign
Soon after filing a complaint with the electoral commision on December 2 over the brutal treatment of the NUP campaign team by security forces, Bobi accused President Museveni of running a smear campaign against him ahead of the January 14, 2021 elections. According to the singer, posters of him smoking were plastered on the electroral commision's perimeter fence but he remained unbowed writing, "Not even this smear campaign will deter us from winning our freedom."