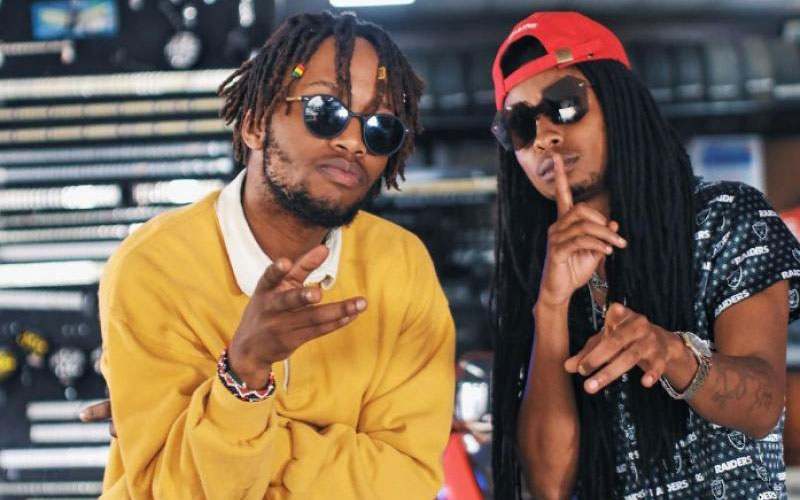 Every young person in urban Kenya is talking about CS Mutahi Kagwe's big deal cool son. It has nothing to do with the hilarious 'gerrit' phrase nor the politicians' son clout. His new trap tracks Mi Siwezi and MaStingo, the latter featuring Chris Kaiga, are all the rage, arguably the biggest rap hits sanitizing the showbiz industry in the country right now.
The young cool rapper has never connected with his thousands of fans who have been enjoying his jams via TV and YouTube. He released the first in June – the same time he rose into public limelight – when concerts and other public events had come to a standstill with the rapper's father leading the Covid-19 fight and urging everyone to stay safe; and stay home.
Finally, today, the young promising star makes his debut in the first major showbiz event since the entertainment sector got a breather last Monday - after President Uhuru Kenyatta lifted the ban of the sale of alcoholic drinks in bars and restaurants. Slated for Carnivore grounds, the event, Kikwetu Festival, will see the freshman join big names in the industry among them Eric Wainaina, Khaligraph Jones, Fena Gitu, Wanja Wahoro, Sol Generation and DJ Foozah. It's a two-day drive-in concert that kicks the showbiz hype back after six months of no action. Kahush is among new Kenyan artistes who have become popular among Kenyan music fans now raring to go. Mbogi Genje, the new Gengetone sound in town too is on gear.
Also read: Karen Nyamu opens up on motherhood
It is a weekend that promises nothing but full entertainment action with musicians, deejays, comedians and other groups in the creative industry gasping to get a lifeline after an entire six months' weekends in the living room - where virtual concerts became a reality. For Benga lovers, Ken wa Maria and the rest of popular Kamba bands will pitch camp at the highway town of Mlolongo that had become lifeless after closure of bars – as it thrives on entertainment.
Adrenaline action lovers have the Clubman Superbike race at Whistling Moran for themselves with an equally thrilling venture at Lukenya Hills, Athi River, where the annual 4×4 Challenge makes its comeback tomorrow. Bars and lounges are making appetising offers for thirsty revelers who can't wait to get back to the social scene. At least, thus far, it's back to action.