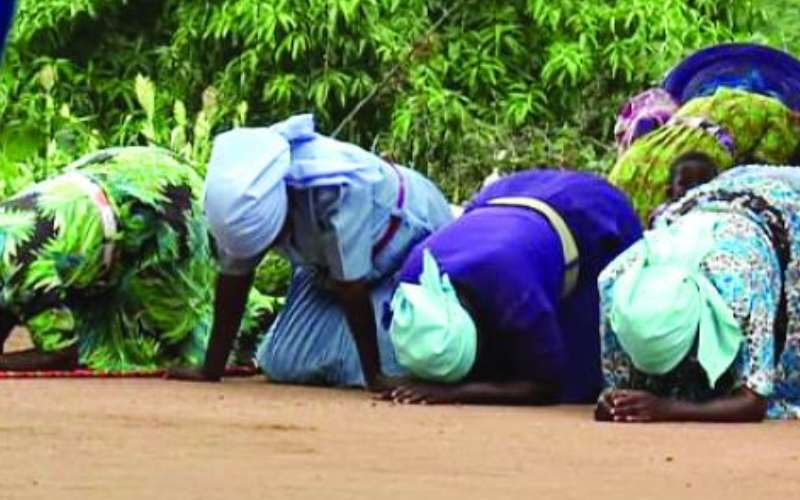 It takes strong faith to refuse to go to hospital even when it is clear one's life is hanging on a thread. Yet this unparalleled faith in spiritual matters is best demonstrated by members of the Kavonokya sect who form a sizable population in parts of Kitui County.
This faith anchored in some biblical scriptures and which is the foundation of the sect's abhorrence for conventional medicine has for years left the public puzzled and sometimes reeling in anger. A recent case is the death of two boys aged five and seven last Friday after a botched circumcision bid in the hands of a traditionalist at Lundi village in Mwingi East. The siblings bled to death after the cut as their parents and other sect members engaged in endless prayers for their healing.
"Our faith does not allow us to go to hospital. We only pray and get healed by faith. Their death is the will of God who gives and takes away," Mutua Kithuka, the boys' father, told The Standard on Sunday hours before he was locked up at Ukasi police station.
Yesterday, Kithuka recorded a statement at Nguni police station as he waited to be arraigned in court. But who exactly are the Kavonokya adherents? Mzee Musembi Kavulu, a resident of Mutwangombe area in Mwingi Central and an elder of the sect, says theirs is strict adherence to biblical teachings that prayer coupled with faith is all humanity needs. For this reason, Kavulu says their members have no business going to hospital because God is their ultimate healer.
Also read: Lemon is not a cure for Covid-19
DELIVER AT HOME
Pregnant women do not attend clinics and deliver at home, sometimes with fatal consequences. Even children struck by outbreaks such as measles are never taken to hospital. Many die at home, but the sect members are never moved. They say once one's time to die knocks, nothing can save them. "It is all God's will," they say.
Their prayers, which are held in identified homesteads, are characterised by beating of drums, singing with synchronised jumping and stomping of feet. The preachers are always men. They have no physical church buildings and no ordained pastors. "Any member has the free will to preach as long as God has talked to him and given him a message for His people," says Kavulu.
The members believe women should be obedient and wait to be directed. It is easy to pick Kavonokya women in a crowd by way of their dressing. They always have their heads covered and entomb themselves with long dresses that touch the ankle. This is the case even for the well-educated. Kavulu says this is meant to ward off unwarranted desires from men, which might lead to sexual sin.
KEPT INDOORS
Mutwangombe area in Endui location has a large population of the sect members, who occasionally engage authorities in running battles, especially during vaccinations against outbreak of diseases. "At such times we are forced to use force and take them to hospital. But when they get home they throw away the drugs," says Endui Chief Samuel Maithya who has had run-ins with the sect members during measles outbreaks.
They also circumcise their boys at home, the chief says, and the initiates are kept indoors so as not to raise eyebrows. Other than their dislike for hospitals and medicine, some sect members do not engage in elections.
Also read: What you did not know about these top Kenyan celebs
"They claim those are earthly activities yet their supreme leader is in heaven. Even in schools, some have clashed with the administrations for refusing to have their children shaved and their mode of dressing," says Maithya. He however says the sect members are generally peaceful and look after each other. "It is only their strong beliefs that occasionally clash with the law but it is a good community. However, we always warn them not to stretch their beliefs to levels that might endanger lives," Maithya says.
Related Topics