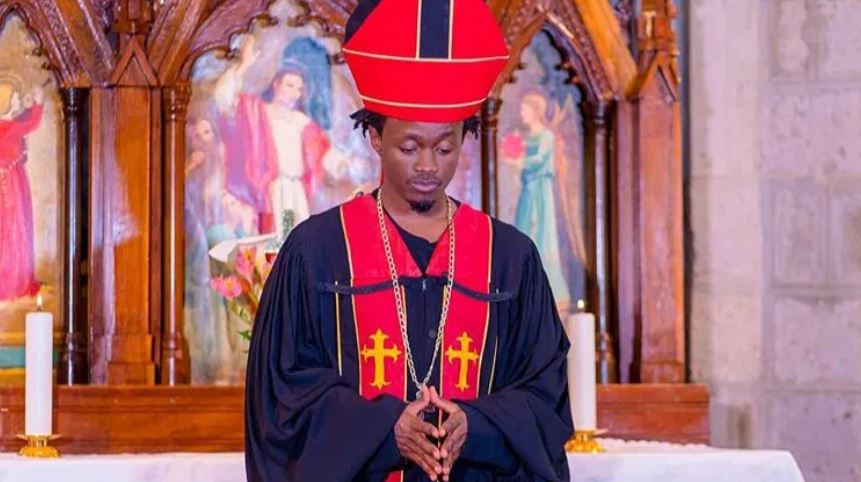 Gengetone and rap music has been overlooked by religious leaders, who find the music repulsive and not suitable for spiritual growth. This became more of a concern when one of the most celebrated gospel artists in Kenya, Bahati, did a collab with one of the best Gengetone groups, Boondocks gang, a song called 'Taniua' a lot of attention from Kenyans and East Africa at large. Moreso, it caught the attention of one Pastor Godfrey Migwi, who, on 3rd August 2020, wrote a message on Facebook warning Gengetone musicians for how far they're taking things with their art. The video inspired this warning for the song 'Taniua' where Bahati dressed as a Bishop, which posed as disrespectful to the Catholic Church and community. He wasn't the only one imitating the attire.
ALSO READ: Bahati turns down Diana's request to have another baby
The Kenyan rap king and OG Khaligraph Jones also felt the need to borrow the idea from Bahati's hit and even dressed as a Bishop in his latest hit, 'Nyakalaga', released on 5th August 2020. The messages they deliver in these songs are positive and those that bring growth, making many wonder if maybe there could be misconceptions about how Gengetone artists make their music.
In his post on Facebook, Pastor Godfrey Migwi said, "I break the silence.
The proverbial elephant in the room is not welcome in the body of Christ. As leaders, our call is to speak what must be said and to lead our people into places of safety and openness. Using of clergy clothing's for entertainment more so for secular songs and for personal gain is totally wrong, and it's time for change. For your information this is the highest level of insult as far body of Christ is concerned.
AM warning you misguided entertainers, you are attracting curses upon your life and your generations to come , I know you're after fame and money but you're completely lost , mark my words, you better repent and break the curses, God is never mocked , Woe unto you and your generations to come after you Bahati and the one I heard he's called kaligraph Jones, wearing Bishops gowns is wrong.
ALSO READ: 'Just in Love' king, Otile Brown, making waves in the RnB scene
Let me advice you before you regret take those priest headgears and gowns to the nearest Bishop and repent ,good to know that even in the Church not all ministers of the Gospel wear them, there's a procedure to follow before you wear priest gowns".
One of the misconceptions raised is that the music made is evil and deteriorates morals. The question is, will Gengetone and rap artistes adhere to Pastor Godfrey Migwi's warning and make slight changes to their art? Or will this Catholic attire be the new dress code in upcoming music videos?