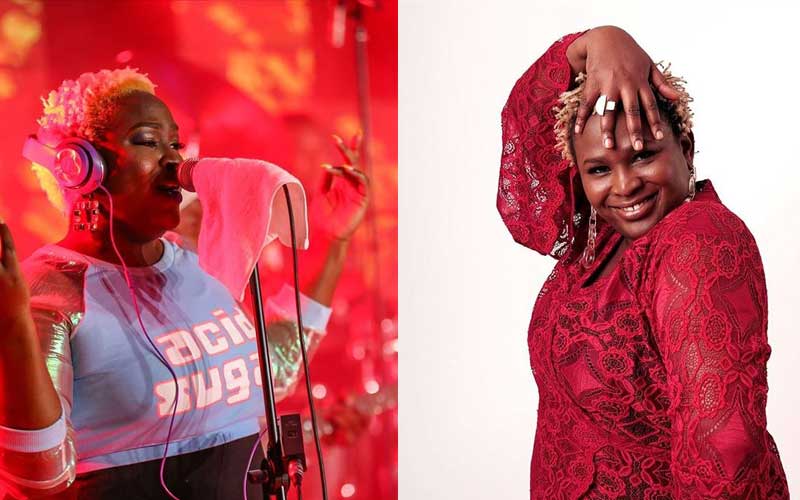 Meryl Paige is the RnB diva with a big voice. She effortlessly displayed her wide range of vocals and lyrical prowess at this year's (2020) edition of Trace Live, where Kenya's best performing artists got to showcase and perform different genres of music. Meryl graced the sets as a background vocalist for some of Kenya's renowned artists where she displayed her skills.
She sang alongside King Kaka, Octopizzo, Kagwe Mungai, Naiboi, and Khaligraph Jones. She not only impressed Wambura Mitaru, who applauded and commended her for a job well done but also inspired Octopizzo to give her public acknowledgement on his social media platforms. Her voice gave good tones and mellows to the songs of these particular artists.
READ ALSO: Ivlyn Mutua drops debut album
Meryl Paige has been in the live music scene for seven years now and is well-versed in the art of live performance. She started her musical journey at a young age in Sauti Academy, which has fostered many Kenyan musicians, and even hosts two events that give her and other Kenyan musicians a platform to share different genres of music. Meryl has been persistent and consistent in her sound and her pursuit of success in the Kenyan RnB scene, which is unfortunately quite small.
However, her stand-out performance comes from Trace Live. Since COVID -19, Trace Live has curated performances featuring Kenya's finest. The Trace Live performances are bound to leave a lot of people yearning to see more. According to Trace Eastern Africa Cluster MD, the music extravaganza was an initiative to support the local creative economy and offer lovers of music both in Kenya and abroad an immersive entertainment concert during a period of restrictive social interaction.
Following her spotlight on Trace Live, Meryl, with high demand from her fans, did a cover for Lightning by Mortimer. This is a hit single that was released with the top producer Winta Jame's Overstand Entertainment. Lightning is a classic down-tempo reggae love song with a modern update. Meryl released the cover shortly after Trace Live was concluded, where she featured guitarist, Nick Agesa.