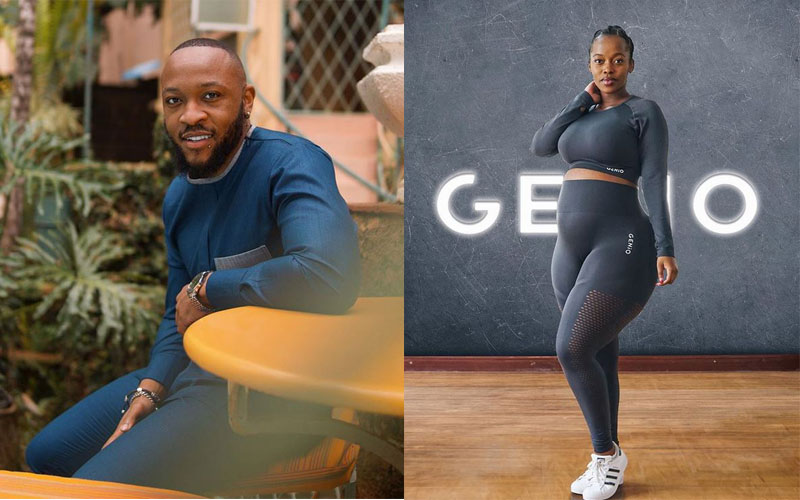 Socialite-cum lawyer Corazon Kwamboka and fitness trainer Frank Kiarie popularly known as Frankie Justgymit have for the first time confirmed their relationship. Speaking to blogger Edgar Obare, the two confirmed they have been dating since December 2019 but kept it under wraps for fear of backlash.
"We kept the relationship a secret because we did not want the backlash and people taking photos of us together. Edgar, I never took her out for any dates. We always had meals at home since we did not want people taking photos of us," said Frank.
READ ALSO: Frankie and Corazon's law of the muscle
Corazon, who is currently expecting a baby with Frank narrated how they met and when the relationship started. She said that she realized she was pregnant while on holiday with her mum in Diani, adding that she spoke to her baby daddy about it and they were all mature about raising the baby.
"I was with my mum in Diani for her birthday when I found out that I was three weeks pregnant. When I came back to Nairobi, I bought pregnancy kits tested myself and the results were positive. I doubted it and I did another the following day and the results were positive. For a week I didn't tell my baby daddy and when I told him we agreed to have it. We were all mature about it. Just wanted to hear what he had to say. It was a blessing," she said.
The two also revealed that they have been living together and it has helped them get to know each other better.
"So far I've had a smooth pregnancy. The first trimester was good, I didn't have any morning sickness and I just pray for the next few months to be safe.  I was so scared to share this because I thought people would attack me but that hasn't happened. The lockdown has helped me and the baby's father to get to know each other more, bond and build our relationship," she added.
Touching on Frank's past relationship with popular YouTuber Maureen Waititu, the two said they met after the breakup.
READ ALSO: Frank and Maureen Waititu's maternity shoot set internet on fire
"Most people say that she is the reason my marriage did not work. She is not and we only met way later in June/July when I had ended things. We were all going through a breakup at the time. We had a lot in common and we were just friends. We started dating officially in December," said Frank.
Corazon disclosed that she has been battling with Endometriosis which had almost killed her dreams of becoming a mother.
"Endometriosis had crippled my dreams of birthing a child. But here we are. A pleasant and welcomed surprise. I can't wait to meet you. Hold you and teach you everything I know," she wrote on Instagram.