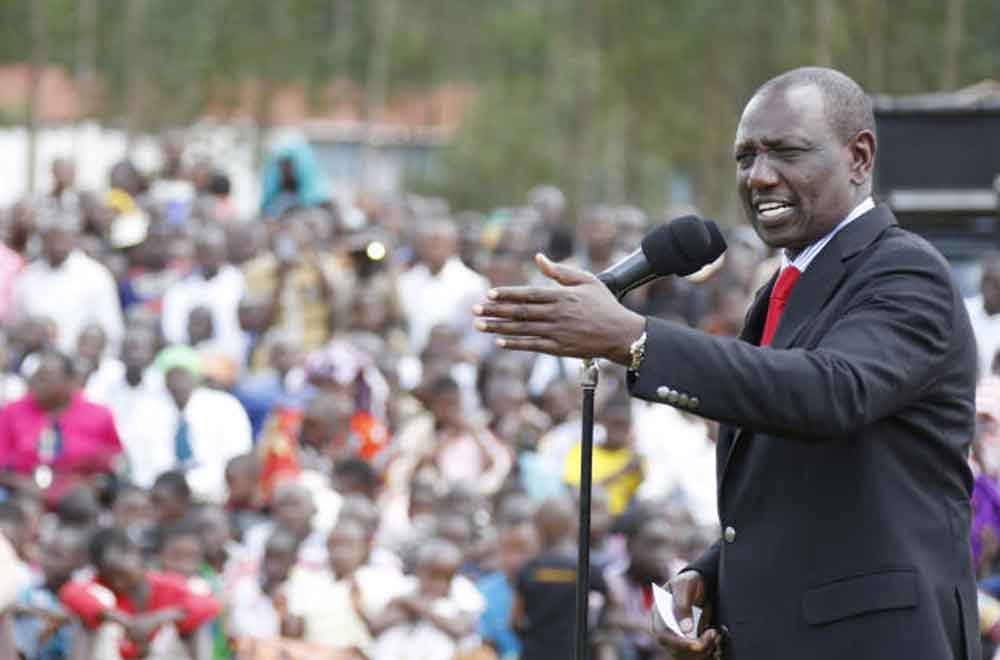 Let's face it. You may not like Deputy President William Ruto, but truth is the man is a political genius.
I am told the man has never lost a political contest since his days in the university where, as a Christian Union member, he sang "niwewee tuu bwana" with hands raised up before graduating to "Kanu yajenga nchi."
Perhaps the only political battle he has lost is the 2002 presidential election, where he was the campaign chairman for candidate Uhuru Kenyatta, then a political greenhorn handpicked by retired President Moi to succeed him. They don't know what hit them! But that is water under the bridge.
Today, to borrow a tired cliché, the former chicken hawker is a heartbeat from the presidency, having risen from Member of Parliament, to assistant minister, minister, suspect, to deputy president. And now, in between foraging in the swampy waters of Saiwa for a PhD (God knows where he found the time), the DP wants to take over once Kenyatta retires in 2022.
In his quest to become president, the DP is leaving nothing to chance. Having valuable experience from working with former presidential contenders, he knows that a presidential race is a marathon — not a sprint. That's why he has abandoned everything and is now focusing all his energy on 2022 to the chagrin of his enemies.
Some may say it's too early to campaign, but organising for a presidential contest, and a serious one for that matter, isn't like planning for a wedding or a burial. It needs a lot of investment in time, strategy, money, point men and most importantly, goons. The DP is on a full campaign mode, you can say he's on steroids, which does not amuse his opponents.
Last week, long time Raila advisor Salim Lone elucidated that Ruto is "the cleverest and most organised" politician in Kenya. I couldn't agree more.
We have a shortage of honest people in Kenya but I must attest, without prejudice, that this was a thoroughly honest observation by someone who is not in Ruto's camp. Had it been said by the Kipchumba Murkomen or Aden Duale, we would have dismissed it as an opinion of Ruto's flower girls or a theme song for the Kutangatanga traditional dance squad.
Ruto is combative. He takes no political prisoners and is a strategic and ruthless mobiliser. His energy, mobilisation techniques and the gift of the garb are just out of this world. He is a so good on the podium that even when he is being uneconomical with the truth, the audience is often too mesmerised by his delivery to care.  
Being abundantly aware that money is the fuel that runs our politics, the DP has spent time amassing wealth, by all means, and he's generously putting his money where his mouth is. With more than enough dough to fund his campaign, ruthless mobilisation skills, better organisation, focus and a rare gift of the garb that make his enemies to wet their pants when he opens his mouth, the DP will obliterate his opponents to smithereens in the 2022 presidential race. You can take this to the bank.
But there's a small problem. Becoming president in this country isn't just about having money and support. There's more. You must be in the good books of the system. These are faceless powerbrokers who control the levers of power. They're invisible but very powerful. They operate like mafia. If they declare you persona non grata in State House, you are toast. Just ask Raila!
Which brings me to my question, is DP Ruto in the good books of the "system"? If the answer to this question is YES, then he can start ironing his suit in readiness for his swearing-in. If his answer is a NO, then his goose is cooked – even if he defects to ODM!