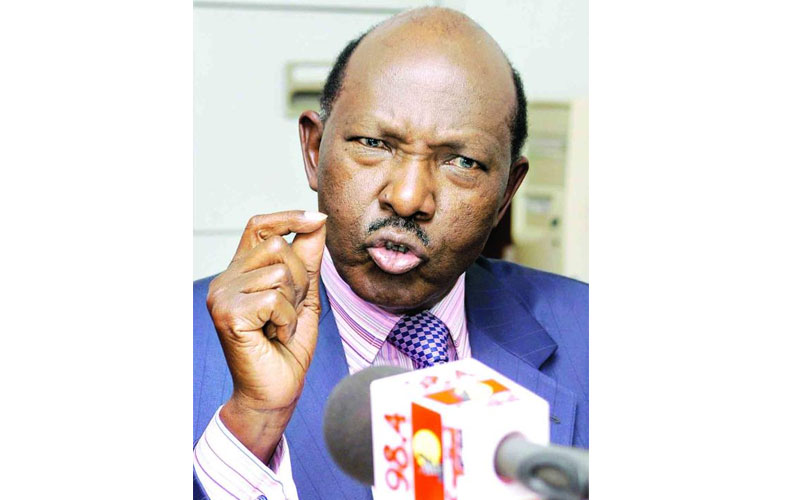 He is a corporate titan, presidential adviser, philanthropist and business magnate with interests in hospitality, insurance, real estate, equity, agribusiness and horticulture.
Dr Joe Barrage Wanjui through Bawan Ltd, has stakes in Hillpark Hotels (Hillpark Nairobi, Ol Pejeta Mansion Nanyuki, Amare Resort, Hillpark Tiwi Beach and Vipingo Villa), UAP-Old Mutual, NSE-listed firms, Bawan Roses, tea estates and residential and commercial properties, including Hillpark Building where the World Bank was once his tenant. 
Just this year, Wanjui, the chair of UAP-Old Mutual and director James Muguiyi, sold their combined six per cent shares for Sh3.1 billion. That is over nine and two million shares respectively, meaning the 81 year old who dislikes politics will chew the lion's share of that bonanza.
A deal maker, Wanjui and Muguiyi opted to hold their 'put options' for three years when Old Mutual acquired 60.7 per cent of UAP from Chris Kirubi & Co at Sh180 per share in 2015. This April, Old Mutual bought their six per cent for Sh236 a share- hence their hitting the Sh3.1 billion mother lode!
Wanjui was born in 1937 when dates were never recorded in colonial Kenya. He settled for May 24, the British Empire Day.
After clearing from Mang'u High (when annual fee was Sh250), in 1958 with a First Class in Cambridge School Certificate, he skirted medicine at Makerere University for an American Air Lift scholarship to Ohio Wesleyan University-where his twin daughters Betty and Mary later studied.
After a BSc degree, Wanjui became the first Kenyan to study industrial engineering and management for his master's degree at Columbia University in 1962 "an unusual course for an African at the time," writes Robert F Stephens in his 2013 memoirs, Kenyan Student Air Lifts to America, since industries were managed by Asians and mzungus.
Columbia was to be near Elizabeth Mukami, his first wife and mother of Betty-Ann, Mary-Ann, Jo-Ann and Joyce-Ann- but then studying in Canada.
As front-pew Catholics, the Ann was for mother of the Virgin Mary! Alas! their union soared in 1970. His remarriage to Ann Njambi in 1975 bore Joseph Wanjui, and Jean-Ann!
As fate would have it, the one-time crack shot before game hunting was banned, became - for 19 years - the longest serving executive of East African Industries (Unilever) to date, as Wanjui notes in Native Son: Experiences of a Kenyan Entrepreneur published in 2013.
But it was a saving culture, $10,000 (Sh70,000 in 1964), when the boy from Kiambu left America, which accounts for singing his lifelong financial Hosannas: Sh45,000 of that dough bought a house in Caledonia along State House Road, two block of flats in Eastleigh and a Morris Cooper, his first car - at 28.
Wanjui sold the Caledonia pad for another in Lavington; sold the flats for 20 lush acres in Kentmere, Limuru which he consolidated to today's Strathbogie Farm in between priceless real estate forays in Spring Valley, Gigiri, Upperhill and Mombasa, where rent for one building funds Joe Wanjui Foundation's science scholarships for girls.
The trumpeter and church organ player is a University of Nairobi PhD dropout. He later became its Chancellor, and was awarded an honorary doctorate for his contribution to "business and industrial development."
Would you like to get published on Standard Media websites? You can now email us breaking news, story ideas, human interest articles or interesting videos on: [email protected]