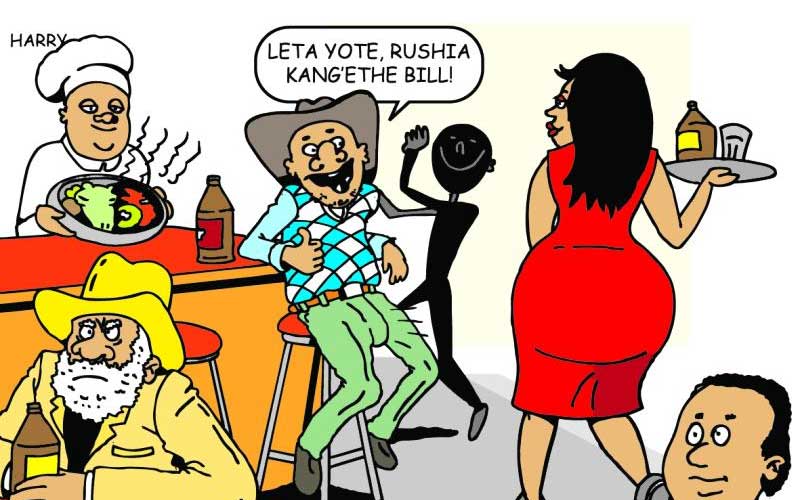 Uncle Thush, the relative of Kang'ethe has refused to return to shags in Mweiga, Nyeri County. He has since pitched tent at the local where he's escalating Kang'ethe's bar bills like a death wish.
With the World Cup kicking off this week, the man whose experience of sports does not exceed beyond Draughts and Volleyball in which he played as a 'booster' for Mweiga Sharpshooters, now plans to watch the events in Russia while bending elbows at the local.
Uncle Thush also has been experiencing 'pepo ya ngono' from the ways in which he has been salivating at Nyambu, the counter girl, who is endowed with tu-Linda Ogutu.
Uncle Thush has been mouthing how he plans to sell his ancestral land and marry Nyambu as his second wife besides "kukuwekea beer distributor," he slurs at his 10th beer swilled on credit.
Since he doesn't pick the tabs, Uncle Thush has been experimenting on all sorts of drinks especially what he calls "pombe kali za matajiri" when ordering for rum on Monday, brandy on Tuesday and whiskey on Friday since "lagers zina mkojo mingi kama ya ng'ombe ime zaa."
Kang'ethe tried forcefully having him board 2NK Shuttle to Nyeri but Uncle Thush launched on a family secret bordering on aibu ndogo ndogo.
Uncle Thush told the local that Kang'ethe came to Nairobi after squandering his inheritance comprising a row of rental houses at the township.
"Can you imagine instead of collecting rent end month Kang'the and his brothers decided to bomoa the building and divide the stones moja moja among themselves?"
Kang'the,  feeling hot at the collar, stepped on the cobbled boots of Uncle Thush who continued "all the three brothers piled the stones for sale by the road side…pesa kuisha ndio ulikuja Nairobi…kama I have lied mungu ani chome tumbo na supu moto!"
As bribery to shut up, Kang'ethe has let Uncle Thush watch the World Cup for which he has engaged Waka-Knife for tips on sports betting in between ordering mutura, roho, goat hooves, figo, ulimi, mara and thufu on the strength of Kang'ethe's kitabu ya deni.