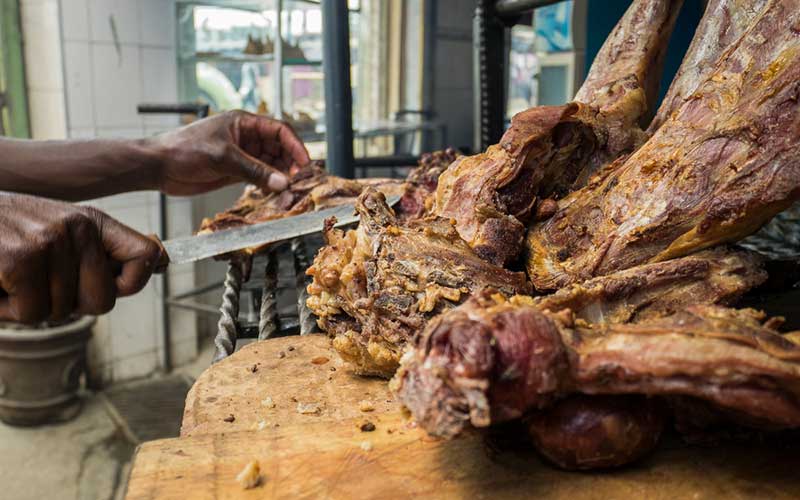 Waka-Knife, the eternal butcher at the local has this habit of picking a piece of meat, looking up in supplication before throwing it down this throat.
What is now a ritual common among Kenyan butchers normally happens after Waka-Knife has cut the meat with a knife with a rod welded at the end to make it heavier when slicing through bones of goats which have been feeding on nylon along major roads.
Mind you the meat belongs to a client then about to deposit stomach defense which creates a gabion when ruining the liver.
One observation Kang'ethe has noted about butchers and the eating of customer's meat is that Waka-Knife rarely digs his soot-coated nails into a sinia steaming with dry-fry, wet-fry or any other fry. Chicken wings, thighs and breasts whether roasted, fried or boiled are also given a wide berth by butchers.
Waka-Knife mostly tastes a famished client's nyama choma and tumbukiza which Owish, who hails from a very superstitious part of Kenya explains is for the sole purpose of "kutoa urogi."
Waka-Knife clarified that butchers eat a piece of the meat to reassure the hungry that no poison as introduced while burning his fingers at the wire mesh which is now black like the heart of Lucifer.
While most butchers pick the tiniest part of choma, Waka-Knife has lately been going for kilometre long goat ribs even when Diameter, the political analyst has ordered for a quarter kilo for which Kang'ethe wonders "kama ni ya kula ama kutega panya!"
Diameter has bones to pick with butchers for getting greedy regarding goat ribs since "they rarely eat the mukimo or ugali!"
Kang'ethe added that in his eating experience, which is vast considering he came to Nairobi "ikiwa na choo moja ya Kanjo," Waka-Knife rarely dips his fingers on his plate of kichwa chemsha with pili pili mbili "yet the goat head is white meat."
Karembo, the resident hooker, added that butcher's place their lips which have smoked many low-life cancer sticks on the rims of those chipped cups in which they sell soup "kutoa urogi."