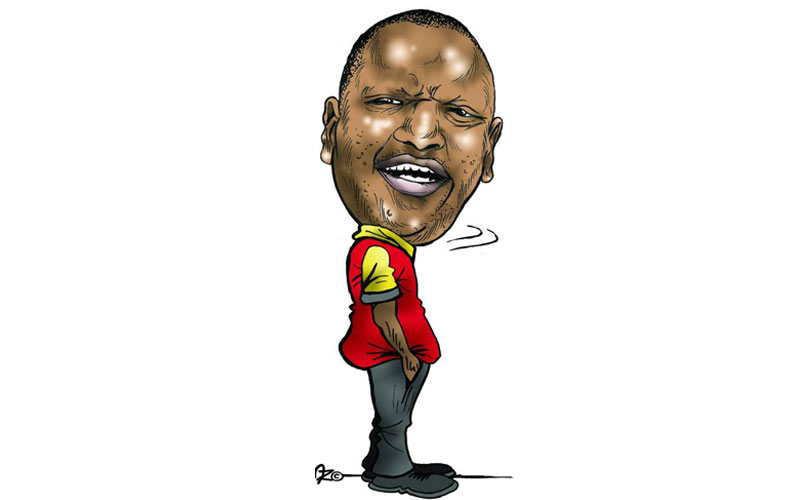 At about this time, last year, I wrote in The Standard on Saturday about the Deputy President William Ruto's political path.
I suggested that by August 2018, he would be running for his political monies, at the behest of his erstwhile allies. It occurred to me that his tribulations would begin as soon as President Uhuru Kenyatta brings down the Bible towards the end of 2017, in rhythm with the words, "And so help me God."
For Ruto was going to have expended his usefulness and relevance for his powerful friends in the Jubilee fraternity. The DP was in his element then, campaigning at once for the reelection of Kenyatta in 2017 and for himself in 2022.
He brought out the crown of ambition far too early and showed it to the enemy within. Our people say that the worst enemy is the one within. The DP is probably waking up to this reality. If he is not, then his bar of wisdom is far lower than I have imagined it to be.
Yet, he is not alone. My innocent prognosis last year provoked a flurry of hostile remarks from the DP's supporters in his Rift Valley backyard. Particularly irksome was my suggestion that the DP would do well to remember that there was only one President in Kenya.
His name, Uhuru Muigai Kenyatta. Hence, he must increase and the DP must decrease.
Yet the DP has often elected to increase-sometimes almost at the expense of his boss. At public gatherings, he issues notices and sounds ultimatums of his own, ahead of inviting his boss to speak. You don't do it that way. It is not done that way; you can't do it that way.
Ruto breaks Robert Green's first of 48 Laws of Power. You don't outshine the boss. There is only one dance. And the dance is now. It belongs to the boss. To talk of a 2022 dance and embed it in the dance of the boss is to cuddle political disaster.
Those who worked for Mzee Jomo Kenyatta found this out in quick succession. You don't outshine the boss. Jaramogi Oginga Odinga thought that he would define policy and ideology in Kenya's first government. He ran into a political minefield. Joseph Murumbi, the second Vice President after Jaramogi, understood the script quite early. It was a script he was unwilling to play to. He feigned ill health and quit quite early in the day.
Daniel Arap Moi, too, understood everything even before he stepped into those shoes. He played his role with the consummate accomplishment of a master craftsman. He played the fool to the very end. The powerbroker caucuses of yesteryears would remark, "We underrated this man."
"When he came to power, even some from his own Kalenjin backyard called him "a passing cloud." Among them was a Cabinet Minister, Taita Arap Toweett. When Moi had sat properly in the saddle, he showed Toweett the door. And so this underrated passing cloud passed for 24 very dramatic years.
Of Moi's Vice Presidents, Dr. Josephat Karanja was easily the most ostentatious. He was voluble, ornate and given to forgetting that there was only one centre of power. The power brokerage class organised a choir of parliamentary "shoutants" and smoke makers who shouted and smoked him out of office — all the way to the grave.
Before him, an unassuming Mwai Kibaki kept everyone guessing what could be on his mind. His words were mechanical and few. He would praise the big man, saying how he was farmer number one, philosopher number one, teacher number one and all good things number one. He would then invite him to speak. Yet, Moi still dropped him and appointed Karanja in his place.
Kibaki had often been mentioned as the leader of an informal caucus they called "Kanu A" while Attorney General, and Later Constitutional Affairs Minister, Charles Njonjo, was said to lead "Kanu B." For their believed ambition to greater things, Moi cut them down to size.
Prof. George Saitoti, who replaced Karanja, was essentially a word spitting machine. He simply opened his mouth and the words gushed out, praising the master. Behind the scenes, he worked with the Kanu Secretary General, Joseph Kamotho, to imagine himself in power.
This was especially so after reintroduction of multiparty democracy in 1991. Moi would tell Kenyans, in Saitoti's presence, "Saitoti is my friend, yes. But he cannot lead Kenya. He is not presidential material." And Saitoti clapped, together with all the other VVIP clowns in the pavilion.
It's a tough and hard place to be- he deputy national CEO position. You have enemies everywhere. You do well to play your cards close to the chest. You keep your friends close and your enemies even closer. You don't show them where you are going.
The failure of this test is Mr. Ruto's Achille's heel. More wonders certainly lie ahead.
Barry Muluka is strategic communications advisor