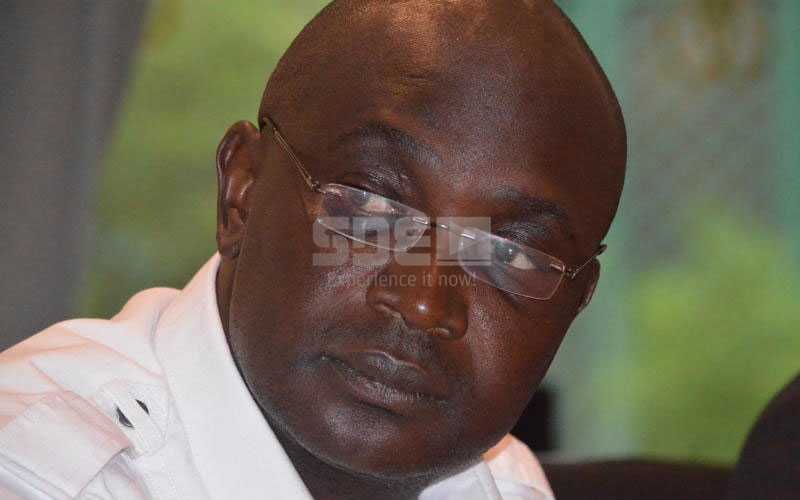 This former MD of Alexander Forbes wakes up at 4 am daily
Bungoma Governor Wycliffe Wangamati speaks about saving Sh100 million from travel allowance in 38days
He also touches on his worst day on the campaign trail and how he made his first million
You were a private sector boss. Why did you join politics?
I ran for this seat to improve on service delivery. The former governor's performance, fidelity to the people of Bungoma and vision for the people of Bungoma had so many gaps.
Things could have been done better, and that is what I intend to do.
Did you bribe voters?
Today's voter is way smarter than we credit them for. If this race was about money, my predecessor would have been re-elected.
His incumbency and the fact that he was the national chairman of Jubilee Party could have easily secured him a win and I would never have come anywhere close. All I did was to sell my vision to the people.
What was your worst experience during the campaigns?
Twice at the tail end of the campaigns, goons beat my supporters. It was plain provocation and many people were injured and their vehicles damaged.
To add insult to injury, my competitor petitioned IEBC to bar me from contesting. I know people say politics is dirty, but this is the lowest we can sink as a people. This was my lowest point on the campaign trail. 
You were MD at Alexander Forbes. How does that differ from being governor?
As a governor, your responsibilities are much more than just being a chief executive of an organisation.
In this position, I get to interact with people from all walks of life in a way that is both humbling and enlightening.
As governor, I have come face to face with a certain face of Kenya- the very poor, the dispossessed, the sick and the hungry. This should make our leaders rethink the politics of hate and exclusion.
How was your first day in office?
I called for a Cabinet meeting at 7am and a senior county official told me it would not be possible because 7am was a tad too early and that this was something they had never done over the years.
I told the officer that there was a new sheriff in town and we will have a Cabinet meeting at 7am the following day. In the morning, everybody that needed to attend the meeting was seated before the hour.
I have also chosen to lead from the front and the latest I get to office is 6.30am. It's going to be this tough for as long as I am in this office because there are many private sector benchmarks that I apply in my daily operations in public service. 
Word on the street is that you are a stickler for keeping time…
Much of my life has been about time and deadlines. I have worked in South Africa and UK where somebody's time is not negotiable. If you can't keep time, we can't do business.
It's been that simple. My training as an actuary also shaped this philosophy.
How is your typical day like?
I wake up at 4am, do my gym routine before leaving for office between 6am and 6.30am.
When I became governor, people thought I would get tired, but what they are not aware of is that I have been doing this for the past 20 years.
It is whispered that you are loaded. How did you make your first million?
I probably made my first million in the United Kingdom when I was still employed. That must have been when I got 15,000 sterling pounds in bonus payments.
Corruption is widespread in most county governments. What is your plan to deal with this vice?
I will not tolerate corruption. I have already made an example of an officer I had personally hired and who presented forged papers to get paid when he was away on training. There will be no sacred cows in my government. There will be no free lunch.
Long before I came into office, I knew how counties wasted billions on meaningless travel and foreign excursions.
From day one in office, I issued a directive that all county government meetings will be held within the county and only necessary travel will be sanctioned.
As a result of the directive, the county saved Sh100 million that had been allocated for travel allowance/per diem in the first 38 days. In a year, we will save up to Sh1.2 billion.
What will you do with this cash?
As a result of the savings, I have increased the bursary kitty by Sh220 million from the previous Sh180 million to Sh400 million this financial year.
The increase in allocation will see 1,000 students per ward or 40,000 students across the county each getting a minimum of Sh10,000 in bursary funds.
Under the improved kitty, the county is also giving full scholarships to about 400 students who scored 400 marks and above in the last KCPE examinations.
From the savings and without touching the development budget, we have reallocated another Sh400 million to paying salaries of more than 2,000 ECD (Early Childhood Development) teachers who were employed only a few weeks to the August elections.
To improve the state of healthcare in the county, I have reallocated Sh400 million from travel and entertainment vote to paying the new salaries for doctors.
How do you intend to clear congestion in Bungoma town?
I have held discussions to explore ways of decongesting the CBD and so far, the most practical is building a dual carriage with lanes for cyclists and pedestrians from Kabula to Kanduyi through the town.
In the meantime, however, we are looking at whether we can build a one-way road into the CBD and another one-way out of the CBD.  
Should Dr Mukhisa Kituyi run for president in 2022?
Why not? Dr Kituyi is a Kenyan and hugely qualified too. He is free to run for presidency or any office in this country at any time of his choosing.
What do you read?
I mainly read motivational books and business books. One of my favourite books that has shaped my business is Rich Dad Poor Dad by Robert Kiyosaki.
What is your favourite drink?
I do not do more than two beers in a sitting. If I have to extend my time out, I sip Sprite or water.
For the last 15 years, it has been White Cap, something that makes me feel close to retired President Mwai Kibaki.
How would you like to be remembered?
The guy with a big laugh, at home with numbers, a father of three, a husband and an Arsenal fan. I work hard and dance hard.
My cup is always half full, I believe in people's abilities and talents more than their age and backgrounds.