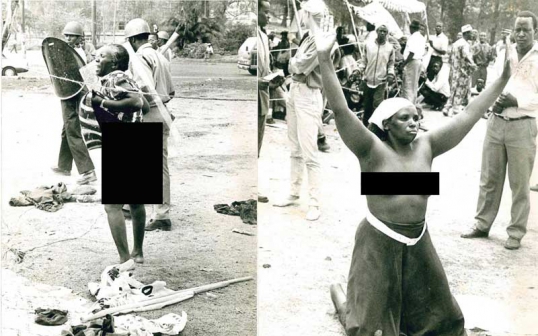 Down all mammary lanes, few Kenyan women can hold a candle to mothers of political prisoners who staged strikes lasting 11 months from February 28, 1992.
With the late Nobel Peace Laureate Prof Wangari Maathai behind them, these mothers camped at Uhuru Park's 'Freedom Corner' in Nairobi in a hunger strike, after unsuccessfully petitioning then Attorney General Amos Wako to free their sons.
Detention, they argued, was incongruent with the political latitude then enshrined in law after Kenya shrugged off single-party dictatorship in December 1991. All the mothers were from Central Kenya, where matriarchy long upset the applecart of power relations.
Sympathetic Kenyans joined them with food, blankets and tents as they prayed and sang vernacular freedom songs, while issuing banners and fliers detailing their anguish. Come March 3 and police were unleashed to disperse them with batons and teargas.
In retaliation, the cucus stripped naked and shook their breasts at the cops. The policemen ran away. It is deemed a curse when a mother or old woman strips in anger, but the violence against them made world headlines, sparking stone-throwing riots in Nairobi. Matatus staged strikes in solidarity.
The US and German embassies condemned the Kanu regime. Academic papers and book chapters have been written analysing the power of female militancy in political activism after these elderly and defenceless women employed nudity as a political tool.
The 12 defiant mothers who are now in their 70s included:
Monica Wangu Wamwere: Mother of former Subukia MP, Koigi wa Wamwere and Charles Kuria Wamwere, who had been detained since 1990.
Mama Koigi's compensation petition for atrocities of 1992 was dismissed on April 15, 2016, alongside that of Priscilla Mwara, mother of lawyer Gitau Mwara. "They never tendered medical reports proving they suffered torture" at 'Freedom Corner,' ruled High Court judge Isaac Lenaola.
Milka Wanjiru Kinuthia: Mother of lawyer Rumba Kinuthia who (with daughter Margaret Wangui Kinuthia) were compensated with Sh1.5 million for torture at 'Freedom Corner.'
Leah Wanjiru Mungai: Mother of Kang'ethe Mungai who had been sentenced to 20 years for distributing Mwakenya leaflets!
Gladys Thiitu Kariuki: "The pain of bearing a child does not allow me to let my son continue suffering in prison," said the mother of the late Nakuru Town MP, Mirugi Kariuki.
Veronicah Wambui Nduthu: Mother of University of Nairobi student leader, Karimi Nduthu, who was killed in 1996.
Ruth Wangari Thungu: Mother of Wakaba Thungu, whose famous picture daring police with her womanhood remains the enduring image of bare-breasted political crusading. All their sons were released by January 19, 1993.
The last time stripping in political protest happened was 70 years earlier in the case of Mary Muthoni Nyanjiru, who planted germ seeds of nakedness as a weapon of 'political consciousness.'
But she was shot dead while demanding the release of freedom fighter Harry Thuku along what is today Harry Thuku Road on March 16, 1922.
Related Topics