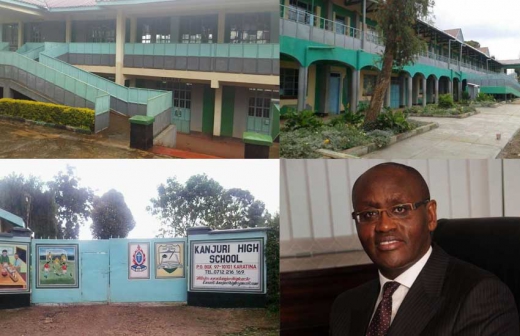 Kanjuri Boys High School in Nyeri County was started in 1964
The PCEA-sponsored school remained a mixed school until 1999 when it became a boys school
Severe disciplinary actions included spreading out toilet paper on the field
Kanjuri Boys High School was started through community fundraiser in Karatina, Nyeri County in 1964.
The PCEA-sponsored school was built on a land that previously hosted the Kikuyu 'Njuri' dance, hence the Kanjuri name.
It remained a mixed day and boarding school until 1999 when it became a boys only boarding school and today, 'Kanchez,' as it is nicknamed, is one of the top performing schools in Nyeri.
Here, students have evening devotions from 7pm before starting preps. Friday religious studies are a must.
Severe disciplinary actions included digging out tree stumps. The school was a mini barracks of sorts, with bullying extended even to Form Two - senior boys munched their delicious shopping and then spread out their toilet paper on the field.
In Kanchez, only the brightest learners went for maths and science contests. However, the sister schools of Bishop Gatimu Ngandu and Tumutumu Girls offered the average boys some comfort.
Notable alumni guided by the motto 'Strive for Excellence' include Njeru Macharia, the chair of the Independent Policing Oversight Authority (IPOA), Prof Moses Gachari, Deputy Vice-Chancellor (Academics), Dedan Kimathi University and Dr Margaret Mwenje, Head of Department, Social Sciences, Karatina University.
Others who wore light-blue shirts, gray trousers and green cardigans are Elijah Nguyo, former Nyeri County Education and ICT boss, Paul Kanyi, senior pilot and aviation consultant, Mary Karogo acting CEO of Kenya National Examinations Council and Dunstan Ngumo, economic adviser at the Nyeri County government.
Others who cooled their heels at Longonot and Suswa dormitories are Warren Lamu, managing director African Urban Entertainment, Ephraim Mugo, Inooro FM presenter, Charles Thamaini, senior engineer, Ministry of Infrastructure and Mbae Wanjiku, event planner at KICC.
Others are Kevin Githinji, Operations Manager at Faulu Kenya, Godfrey Ndegwa, Financial Control Analyst, Charles Kigotho senior human rights officer at KNCHR, Daniel Mwangi, Credit Officer KTDA, David Muchugu, administrator Zimmerman PCEA Parish and Douglas Nderitu, support specialist at Postal Corporation of Kenya.