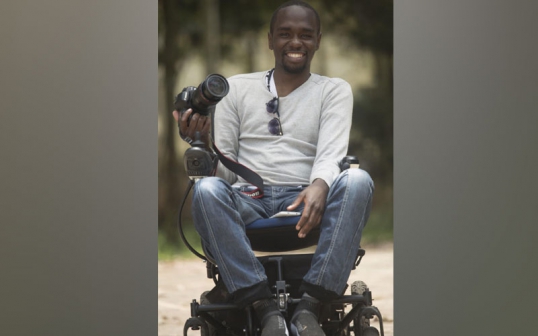 What happened on the fateful day?
I was among several passengers waiting to board a matatu on October 10, 2014 at around 9am. I saw two matatus competing towards us, each trying to overtake the other.
I was hit but was able to hold onto the side mirror of the vehicle that hit me. But it lost control and I lost my balance, falling to the ground with my feet caught in between the wheels.
The vehicle ran over my feet and they went numb. I remember I was carrying a bag that somehow protected the upper part of my body. The wheels also ran over my right hand side. That was the last time I moved my feet.
Were you rushed to hospital?
Yes. I was taken to the Nairobi Women's Hospital near Bomas of Kenya, and later transferred to Kenyatta National Hospital which is less costly.
I was in Kenyatta for two months before being transferred to the National Spinal Injury Hospital where I spent eight months of rehabilitation.
Did you give up on walking again?
No. I believe I will walk again. I have met doctors from India who believe I can walk again with the help of spine decompression and stem cell operation.
This is the best news so far. Although this is still experimental, I have great hope. All I need is Sh2 million for the procedure.
My friends from school with the help of the community have already raised Sh1 million. I still have hope.
What has kept you going despite facing all these challenges?
I am a lover of arts and entertainment. Not being able to move my feet has not stopped me. I am the founder and CEO of 3MillionPhotography that deals with breath-taking pictures that tell stories in a unique way.
How do you feel about the driver who did this to you?
I have forgiven the driver, though I have never met him. I met the owner of the matatu when I was in critical condition but they have both disappeared from the scene. I've never heard from them.
What have you learnt from this experience?
I made a point not to lock myself up because I am physically challenged.
I decided to go back to school. Never lose hope because you will never achieve anything in life if you give up. Believe in yourself and seize every opportunity presented to you by fate. Take risks.
What lessons would you like other people to draw from this?
Humble yourself before God. He is ever faithful. Serve others without expecting anything in return and God will reward you. In life, I've learnt to put everything before God because I believe that with him, everything is possible.