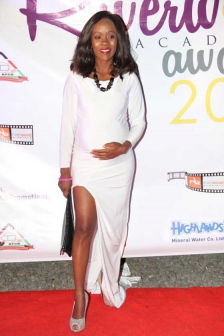 Kalasha award-winning actress Janet Nariki showed up at the Riverwood Awards gala night looking all sexy. Her thigh-exposing seductive dress stole the show.
The eight-and-a-half months pregnant beauty arrived at the venue minutes before the red carpet ceremony was closed and the moment paparazzi noticed her belly, all eyes were on her.
"I am eight and a half months pregnant and happy about it. This is such a beautiful thing. It is exciting to think that I will soon be a mum. It is something I think and laugh about. Life has a whole new meaning with a baby on the way," she told MondayBlues during an exclusive interview.
"I have been directing a number of films and TV shows and I am not letting this pregnancy slow me down. No! It is a happy pregnancy. I am a workaholic and I think this baby will be the same too," she said.
Not so many people knew of her pregnancy until the public display as Janet has kept her private life just that over the years.
Janet is one of the most celebrated Kenyan thespians. She has appeared in several television and film productions among them the TV  show, Makutano Junction. She is also a musician.