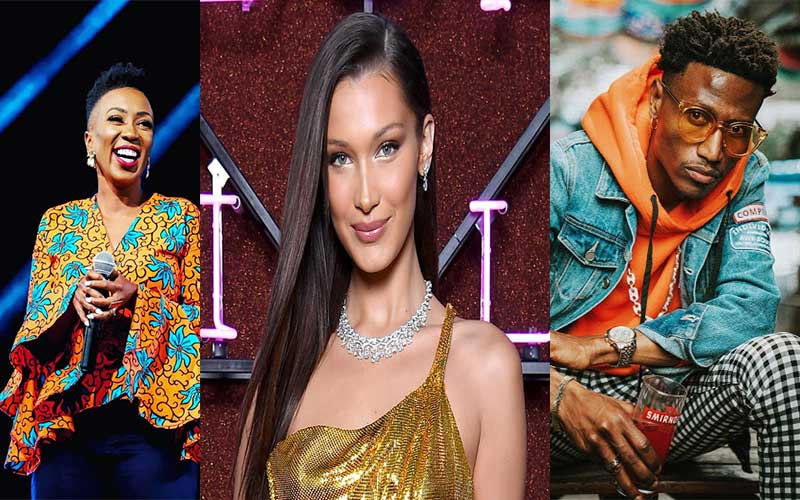 Celebrities and entertainers have taken to their social media accounts to send out positive and uplifting messages with the public amid the deadly Covid-19 outbreak.
Singer Avril took to her Instagram to create awareness on the novel virus, urging her fans to protect themselves and their loved ones.
"Stay safe fam and keep your loved ones safe as well. #AboveAllDontPanic . The statistics continue to change every day, please keep yourself equipped with the right information," she wrote.
Legendary singer Wahu Kagwi also used the platform to encourage her fans, telling them that all hardships shall be overcome in a trail of hashtags shared together with a circulating banner of the positive developments in the worldwide fight against the virus.
"How about some good news? China has closed down its last coronavirus hospital. A 103-year-old grandmother has made a full recovery from Covid-19 after being treated for six days," reads part of Wahu's post.
Popular singer Otile Brown uploaded a photo to his Instagram account, apparently spotting an N95 respirator mask specialized for protection from the virus. He then urged his followers to take care of themselves.
"Sasa tutafanyaje? Y'all stay safe out there. Been in the studio working," he captioned the snap.
Rapper Khaligraph Jones also used his platform to create consciousness on the virus which has spread to thirty-one African countries, rapidly crossing the halfway mark and with new cases being reported every other day.
"Stay safe fam, remember to wash your hands. New music as soon as we handle this Corona Issue," wrote the Me Siogopi rapper.
Media personality Janet Mbugua took a more realist approach, stating the fast rate of the ailment's spread and questioning precisely how prepared we are as a country, but nonetheless asking her 1 million Instagram followers to remain calm while reminding them of tips they would use to prevent infection.
"It's important that we realize how widely this disease will spread. As a country we've had time to get prepared ourselves but just how fully prepared are we to deal with the spread? Hand washing with soap. Daily. Many times in the day. Let's stay calm. It's the strangest thing to say right now but we need to collect ourselves, for us and our families and be cautious," wrote the mother of two.
Celebrated rapper Octopizzo also penned a message to his followers, reminding them of precautionary measures to take in the wake of the pandemic.
 "Stay safe out there fam, you never know. Wash your hands all the time, salamu ni kugoteana only na usinishike tukipatana priss," wrote the rapper.
Hollywood stars too have used their social media accounts to encourage fans to properly self- isolate within the recommendations of the World Health Organization. Ariana Grande, Bella Hadid, Arnold Schwarzenegger and Taylor Swift are some of the celebrities who used their public platforms to create awareness and uplift the sombre masses. 
"Be kind, be respectful, be aware. As healthy young people, social distancing is not about you personally. It's a time to not be selfish, but to be thoughtful and aware of those with immune systems that are more prone to contracting. It's important to take this time seriously to slow down the spreading of the virus. I'd say it's better to overreact than under-react. Please keep your moral compass on during these times and show compassion to others... Buy what you need and don't be greedy," wrote supermodel Bella Hadid.