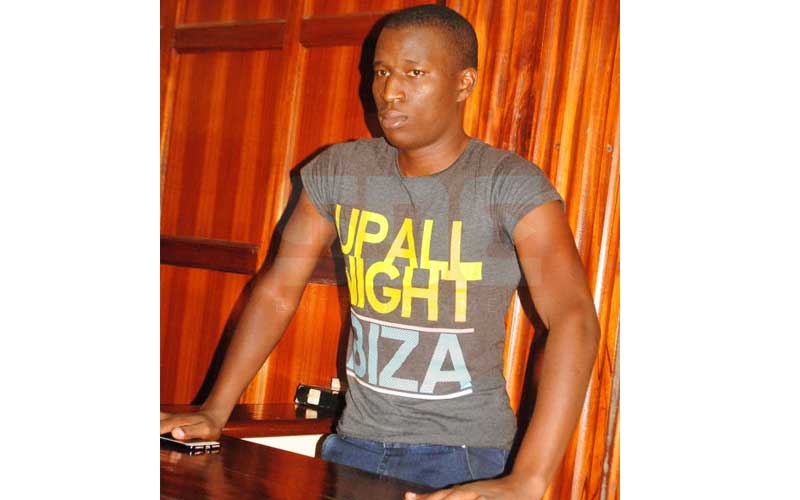 Controversial blogger Cyprian Nyakundi is no stranger to the corridors of justice. The 29-year-old has been arrested countless time over defamatory posts on his blog.
He rose to fame in 2012 when he was allegedly kicked out of Meru University for his social media posts. Kenyans on Twitter, rallied by 'twitter big-wig' Robert Alai started an online campaign in his support.
He is currently in police detention over alleged blackmail and extortion. Detectives from the Directorate of Criminal Investigations (DCI) arrested Nyakundi alongside an individual identified as Emanuel Nyamweya Ong'era at Westgate Mall in Nairobi after a successful probe.
As we await developments on this particular case, let's take a closer look at times Nyakundi has been arrested:
Kivutha Kibwana
Last month, Makueni Governor Kivutha Kibwana sued Nyakundi for defamation. According to reports, the governor took offence with a controversial article touching on his alleged lifestyle that ran on Nyakundi's blog in September 2019.
In a civil suit Number 234 of 2019 dated November 21, Prof Kibwana through Nyamu and Nyamu Company Advocates, Nyakundi was restrained from further publishing content deemed defamatory to the governor.
Steve Mbogo and his wife
Politician Steve Mbogo and his wife Sabrina Jamal also sued Nyakundi over defamatory publications in December 2018.
Through lawyer Velma Maumo, the two claimed that Nyakundi published and continued to publish defamatory articles touching on their marriage.
READ ALSO: Cyprian Nyakundi under fire from Lilian Muli and Betty Kyalo
According to the politician, there was no jurisdiction for Nyakundi to publish such content concerning him because there was no evidence to support the allegations.
Dr Fred Matiang'i
Cabinet Secretary Dr Fred Matiang'i in February 2018 also went to court to sue Nyakundi for publishing offensive information.
The blogger was said to have committed the offence on January 23 2018 on his Twitter account. As a result, Nyakundi was restrained from using his social media accounts then.
Safaricom
Telecommunications company, Safaricom, also through its lawyer Ogetto, Otachi and Company Advocates, in 2015 claimed that Nyakundi had defamed the telecommunication company by posting 'baseless and unsubstantiated' claims about the firm on his blog.
In the suit, Safaricom stated that the popular blogger has begun a 15-part expose on their operations that portrays the company as 'a thief and a fraud, obtaining money and airtime from its subscribers through non-existent subscriptions'.
Safaricom also alleged that Nyakundi accused them of firing their staff for falling ill.
Waiguru, Sonko defamation case
The two lawmakers went to court in 2018 to sue the blogger for allegedly writing derogatory statements against them. However, in a twist, following Nyakundi's petition, The High Court declared section 84 (d) of Kenya Information and Communication Act (KICA), which criminalized sharing vulgar information online as unconstitutional.
The court found that the section was vague and limited freedom of expression. Justice Wilfrida Okwany said that circulation of ideas should not be prohibited, adding that it must be appreciated that it is only through criticism that leaders understand that their actions are inappropriate.