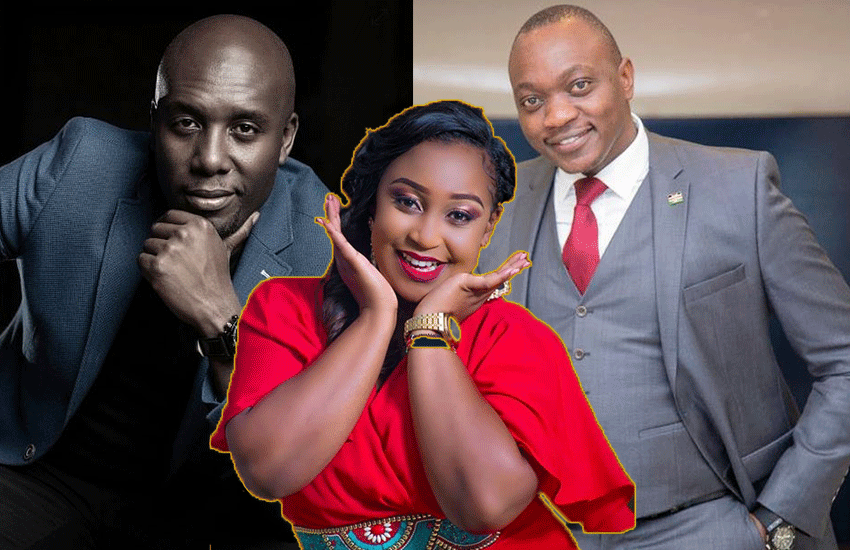 Journalist Ken Mijungu has uncharacteristically opened up on his private engagements especially on his friendship with anchors Dennis Okari and Betty Kyallo.
In a lengthy, candid Facebook post hours after Kyallo narrated her daughter's battle with acute disseminated encephalomyelitis (ADEM), Mijungu claimed that her post did not present the whole story.
"Yesterday I went to sleep with a heavy heart. I read a post by my colleague Betty. While she has the right to post anything about Ivanna and her challenges this year and thank God for it, she inevitably and deliberately exposed my best friend Dennis as an irresponsible father. From the responses, you guys have bashed Deno for no reason and I know Betty will not correct it so I will," explained Mijungu.
According to the Sidebar host, Kyallo omitted the frantic efforts made by her ex-husband Okari; a colleague he described as his best friend in Ivanna's recovery.
Mijungu narrated that following Ivanna's hospitalization earlier in the year, Okari was by her bedside day and night and "only reported to work when he could."
Read Also: NTV journalist Ken Mijungu reveals the faces of two men allegedly plotting to murder him
A matter he stated was well known to Betty Kyallo and Okari's bosses.
"Betty, be honest, Okari and even Naomi were there for Ivanna from the day we learnt of her illness and were by her side day and night. Dennis called me on 23rd March at about 10 am, asked me to drop whatever I was doing because Ivanna was critical. Too weak to walk alone or drive he asked me to pick him at home.
"We met on Mombasa road since he couldn't wait for me and we drove straight to the hospital. At Nairobi hospital, Betty blocked my access to the ward cubicle where Ivanna was only allowing Dennis in. I stayed by the glass doors from 11 am to 2 pm. Okari remained inside all that while with Betty and was joined later by Betty's mum and sister Gloria. I understood her action because it was about the baby," stated Mijungu.
He added that whilst his friend's relationship with the K24 anchor did not work, Okari was there for their daughter and instrumental in raising funds to offset a bill, that, according to Mijungu, stood at over Sh7 million.
"For every single day that followed from that day on Okari was at the hospital day and night with his daughter. We raised funds to offset a 7M + bill. Okari only came to work when he could and our boss understood for all those months. To deliberately paint him as irresponsible is immoral my friend. You don't have to correct the impression you have created," he added.
Read Also: Ken Mijungu pleads with the public to help trace stolen Prado
Mijungu noted that he is grateful that Ivanna recovered and reiterated that the current circumstances do not affect their friendship.
"We were friends before and one day we shall be friends again. Even though the relationship did not work Ivanna remains part of us and we thank God she is ok. As a friend, I followed up the progress of Ivanna occasionally texting Betty and sneaking in at the ward to see her. Anyone who has been to the ICU knows it's a huge glass cubicle. You don't need to thank Okari and Ivanna's grandparents who visited and prayed with her but at least be honest about it," he added.