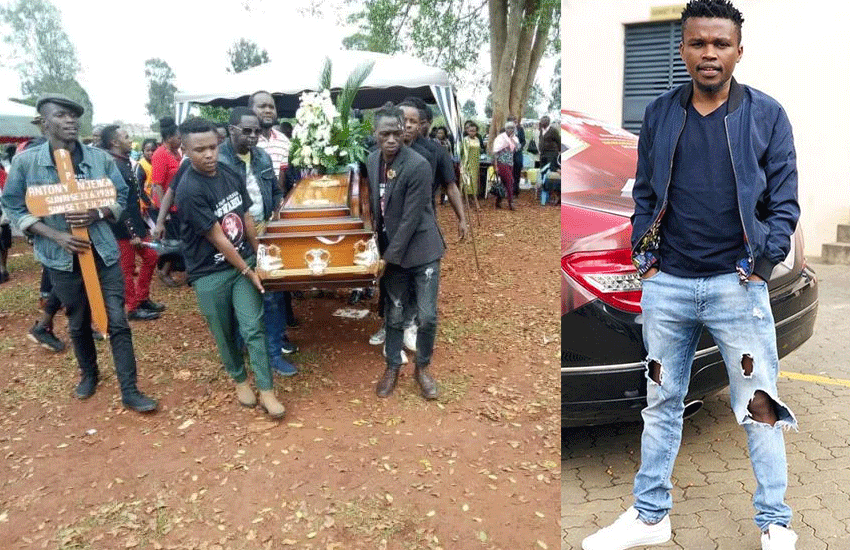 Nacada Director Mwasia Mutua, popularly known as Chipukeezy, has pointed an accusing finger at stakeholders in the entertainment industry for frustrating its stars.
In a hard-hitting post hours after the late Churchill Show comedian Njenga Mswahili was laid to rest at Lang'ata cemetery, Chipukeezy Chipukeezy claimed that Mswahili was frustrated, blaming the media, corporates and Kenyans.
Chipukeezy, a top comic in his own right, drew parallels between Mswahili's death to that of another promising star Emmanuel Makori Nyambane alias Ayeiya who died in 2017 saying that they both, at one time, suffered while trying to get a footing in the industry. 
"All Njenga Mswahili wanted to do was to make you laugh, all aka Ayeya wanted was to make you giggle a bit. The untimely deaths of both aka and Mswahili are identical. They both suffered some sort of depression before their demise. These depressions were caused by Frustrations that could have been avoided since they are caused by the system, the media, the industry and the corporates, in short Kenyans. We have to embrace, support and own our own. I am guilty, you are guilty. Thou shall not kill! Rip" said Chipukeezy. 
In particular, Chipukeezy condemned a narrative of negativity that, he said, was being propagated by bloggers and consequently costing careers and lives of entertainers. 
"We are all guilty of murder!! The Industry!! The media (mostly bloggers) and the corporate world. The Industry never really supports you and never wants to see you grow and when you work your way and grow the bloggers are on wait to chew you, only negativity sells for bloggers, bloggers you are guilty of murder!!! You have killed dreams!!! Deemed lights and lives of young talented people, you rarely support," part of his Facebook post read.
Real name Anthony Njenga, Mswahili was laid to rest at Lang'ata cemetery, in Nairobi on Thursday, November 14, in a ceremony attended by close friends, family and colleagues. 
According to reports, the late Mswahili was found dead on Dagoretti rail tracks on November 7.
Comedian Eric Omondi, in an interview with Milele FM, said the deceased had before his demise been going through a rough patch for the past three years and occasionally sought help.
"Njenga was crying out for help during his darkest times but everyone – including me, was simply too busy with our own lives to lend helping hand, it's like we have lost our humanity," he admitted.
Njenga Mswahili occasionally made appearances on the Thursday night comedy show, (Churchill Raw).