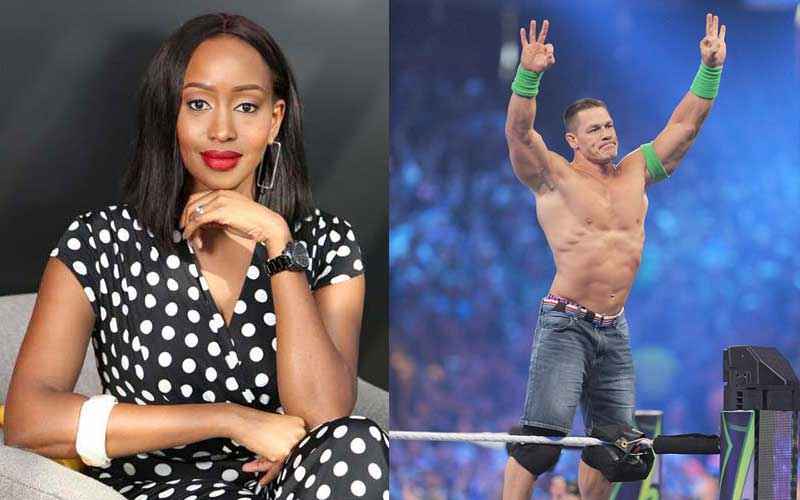 Kenyan media personality Janet Mbugua is over the moon after US wrestler John Cena followed her on Twitter.
The mother of two could not hide her excitement and shared a screenshot on her page, accompanying the post with the words of singer Sho Madjozi.
"Haibo! John Cena has followed me! (Inserts Sho Madjozi energy): Chi chi chi chi…chi, chi, chi Happy new week, folks!" wrote Janet Mbugua.
Focusing on Africa
This comes a few days after Cena surprised Sho Madjozi while performing on a live TV show.
Cena surprised Madjozi in California as she performed her hit single "John Cena" on 'The Kelly Clarkson Show'. According to Sho, she wrote the song after a boy she liked failed to direct any attention her way.
John Cena has been reportedly paying attention to the African continent ever since the South African songbird dropped the 'John Cena' hit which she sang in fluent Swahili.
Marriage on the rocks?
Janet Mbugua, on the other hand recently commented on rumours that her marriage is on the verge of collapse. The 35-year old stated that "It has been a few years…" and admitted that the institution of marriage is a challenging one.
"I always tell those who keep on saying: 'Oh my God, I can't wait to start a family…' I say two things: 'Take your time, and make sure that you are ready; because you could be good at being in love, but you do not really need to be married."
She advised Kenyans to take their time before settling down.
"Trying to balance family, work and expectations is really hard…I love my family, I love where I am. And, I know, the moment you say it is not easy, I can predict what the blog posts would say… But, it is fine, they would talk about it" she said.