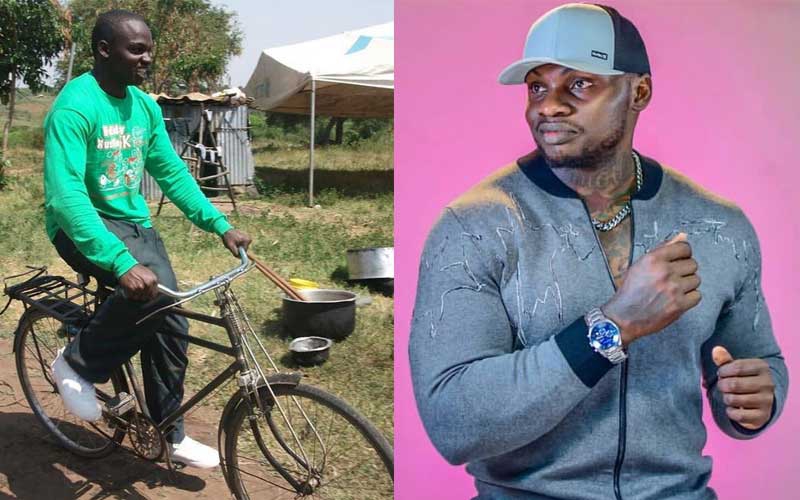 Khaligraph Jones has opened up on his past life, describing himself as a very shy boy.
Born Brian Ouko Omollo in Kayole, Khaligraph told Maisha Magic East that he started rapping when he was in class 5, thanks to his older brother Span Kob. The celebrated rapper disclosed that his first release was a gospel song.
"Nilirecord ngoma yangu ya kwanza. It was a gospel song and I was in class 7. Tuliweka kwa CD then released it. It was even played on the radio."
 "Ilifika point nikaona mimi ni OG," he said.
Even though little is known about his childhood, Khaligraph's brother, Span Kob, revealed that Papa Jones' first job was a bouncer.
Bouncer job
"Alianza kuenda gym na kuinua mawe uko Kayole. He started doing those jobos for security in clubs. That's where he started from coz, you know, ata yeye lazima angekuwa na kitu ya kujilea nayo," said Span KOB.
In 2017, the "Mazishi" rapper shocked revellers when he arrived on stage in a white coffin!
In the same interview, he explained that he is a die-hard fan of WWE and his favorite character is The Undertaker hence his stunt.
"Mimi ni big fan wa The Undertaker. Kama unaona wrestling unajua Undertaker ni nani and he among the top people that I look up to in life."
Recently, Papa Jones lost his chain worth Sh 60,000 to the rowdy crowd while performing in Kisumu.
According to Khali, he lost his chain when he went off stage to mingle with fans.
"The chain they took is worth Sh 60,0000, but those are small things, I came to kill the show," Khaligraph said.
He also added that he doesn't have bad blood with the fan who snatched the chain.