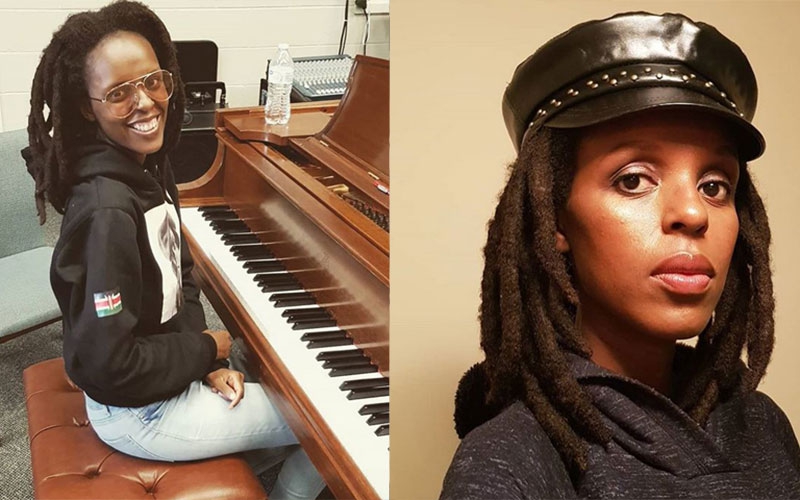 Media personality Jahmby Koikai is back in the country after spending more than a year in the US receiving treatment for stage four endometriosis.
The ever-bubbly revealed that she was back in Kenya, teasing the dust in her neighbourhood.
"Niaje Nairobi, naskia melanin popping lakini huku kwetu it's vumbi popping so mkinicheki ntasema chocolate popping mjue ni vumbi ya hii massive yetu," Jahmby wrote.
The former The Trend presenter was shocked at how fast children in her hood had grown since her departure and thanked God for bringing her back safe.
"Maze watoi pia mtaani wamegrow maze... Great to be back. Thanking God for all He has done for me. So happy to see my family and you all. God bless you abundantly. Taking a rest and I'll see you all soon," she said.
Jahmby's condition
Jahmby travelled to Atlanta Georgia in 2018 and was admitted at the Center for Endometriosis Care for advanced treatment after she was diagnosed with Stage four endometriosis and needed to undergo a lifesaving surgery.
Endometriosis is a condition whereby the uterine lining thickens and breaks down with the menstrual cycle. Because the tissue has nowhere to go, it accumulates forming lesions which cause pain. Endometriosis has no cure but can be managed.
The reggae queen has been battling endometriosis for 19 years and says life has never been the same. "I believe this condition could have been avoided if it were not for the misdiagnosis I got from the doctors I went to."
In one of her Instagram post, Jahmby revealed that her endometriosis had spread to her lungs, teeth, appendix and heart. "Every month while I was on my period, these cells would bleed into my lungs and cause them to collapse," she wrote.
Recovery
Luckily for Jahmby, doctors were able to remove all the endometriosis and she is making good progress.
During her recovery in the US, different Kenyan artists visited Jahmby including King Kaka, Nonini and US-Based gospel singer, Benachi.
Creating awareness of Endometriosis
The former NTV presenter recently made an IGTV video reading out a letter she had written to American comedienne and television host Ellen DeGeneres asking for an opportunity to use her platform to create endometriosis awareness.
"Dear Ellen, my name is Jahmby Koikai from Nairobi Kenya, a stage four thoracic endometriosis survivor. Endometriosis is a disorder in which the tissue that normally lines the uterus grows outside the uterus. In my case, the endometriosis spread all the way to my lungs, diaphragm, chest, ribs, appendix and close to my heart. This disease has no cure but can be treated through a skilled surgery known as excision. I've battled this disease for over 20 years.
"This disease behaves like cancer, but it is not cancer. I'd love to be on your show to raise awareness about this disease and to give hope to millions of women fighting in silence. I'd also love to share laughs and I'd love to be on your show and teach you a few dance moves from Kenya, like Odi dance, even though I have two left feet," she said.