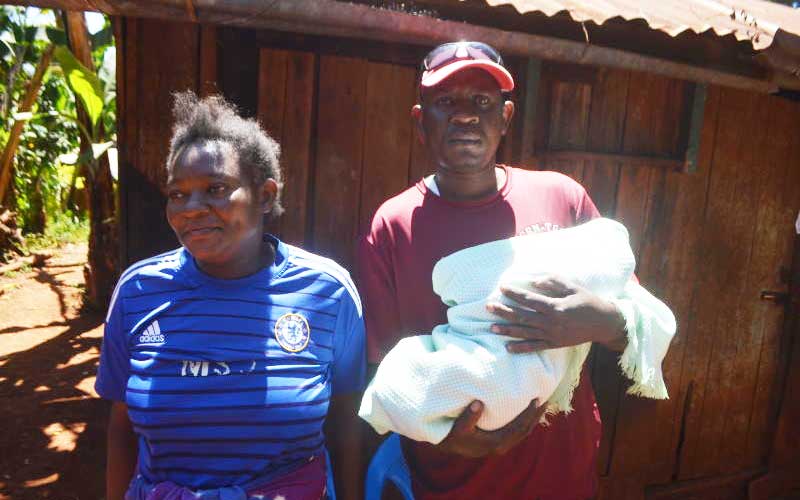 A mother who was expecting to deliver twins at a local hospital is distraught after doctors only handed her one child following delivery.
Judy Wangechi, 35, who delivered through caesarean section at the Kerugoya Referral Hospital a week ago, has insisted that various X-rays and Ultra sound scans that she had undergone indicated she was expecting twins.
Ms Wangechi and her husband Lawrence Muriithi, 38, now say the doctors are to blame for the missing infant.
The couple has reported the matter to the Directorate of Criminal Investigations.
Yesterday, County Police Commander Leah Kithei said investigators have started looking for leads into what happened.
We want truth
"This matter is currently under investigation. The officers have visited the family at its Baricho home, and has also visited Kerugoya hospital. We should give the officers time to unravel the case," Ms Kithei said.
When The Standard visited the family yesterday, Wangechi appeared exhausted and in pain.
Mr Muriithi said although the family led a simple life, he had bought clothes for the twins and was ready to raise them alongside his two other children.
"All we want is to be told the truth about what happened to our other child. The hospital administration has failed to give us answers after my wife was discharged last week," Muriithi said.
He said legal action should be taken on any of the doctors who will be found to have been involved in the loss of the child after investigations are completed.
Yesterday, County Director for Medical Services George Karoki said there was no infant that had been lost at Kerugoya Hospital as alleged by the family.
"There is no child missing," Dr Karoki said through a text message.