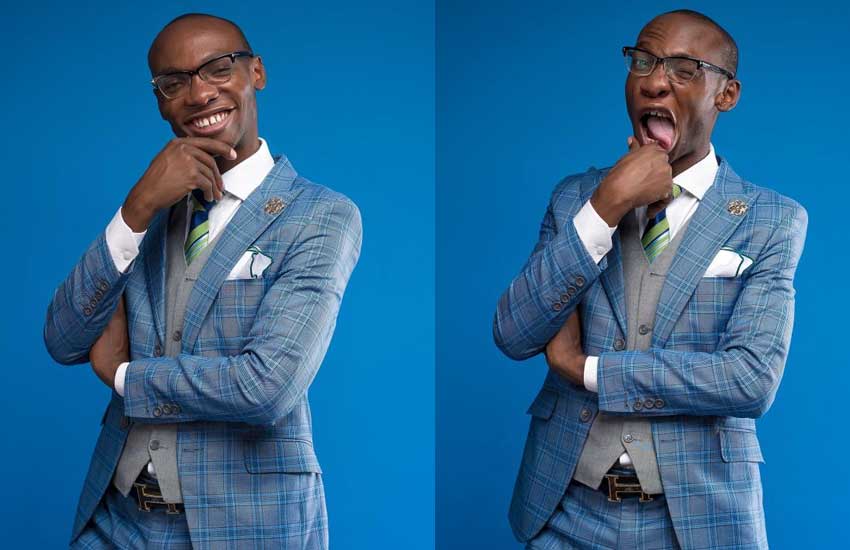 Impeccably dressed in a well-pressed grey suit and tie, he cuts a dashing figure; a far cry from the village boy he used to be.
Dr Ofwoneke is his artistic name. An alter ego. Sande Bush is a man who has been through it all.
Today, he knows something of parents splitting. His own marriage did not survive, but he co-parents with his ex-wife, with whom they are good friends.
It has now been three years since they separated.
"We maturely decided to have an environment where our daughters, Faith, 7 and Debbie, 4 are comfortable. So sometimes the girls live with their mum, other times they come to my place. I take them out. We are good as co-parents. I make sure that we talk every day with my daughters."
With each experience, he picks the lesson from it and applies it. He considers the breakdown of his marriage to be the biggest challenge he has gone through.
"It is one of those pages I would want to tear out of the book of my life. I am a perfectionist, so I had regrets over what I should have done. I chose to leave, but with a decision: that the next time I found myself married, I would do things differently.
"What I learned about marriage and relationships is that you cannot give what you do not have. Find happiness within yourself in order to give happiness. The other lesson was that it is never that serious. If things cannot work out even after 20 years, they cannot work out. Just leave," he says.
"As for parenting, you will never be a perfect parent. Perfecting is the only school you will never graduate from. Every day is a class where you take notes. But again, it is a beautiful journey. There is a joy in being called 'dad'."
But it has not all been doom and gloom. February 24, 2014 was when his career as a professional comedian started, on Milele FM, and he would go on to do radio for 6 years.
"Along the way I collected mentors and brothers I can talk to. People talk about godfathers, but God was my godfather. He is the only being who walked with me when I got rejections, SMSes saying I was not funny, people saying that with my English no one in Kenya would listen to me."
Nine years down the line, he is a sought-after MC for corporate gigs, he co-owns Defa Media Group, a digital marketing and advertising agency, and his ultimate goal is to be the first ever African stand-up comedian hosting the BET Awards.
"And the people reading this better mark this interview!" he says.
None of those successes compare to what he says was the most defining moment of his life.
"We were doing a show in Malindi and I received a phone call that I was officially a father. I went and cried near the beach so that people would think it was just the water splashing in my eyes," he says.
"That was when reality hit me. That I was not going to be a child anymore. That I was then responsible for a life, that I needed to start thinking differently, doing things differently, working much harder, being more aggressive, being very ambitious to achieve, because it was no longer about me."