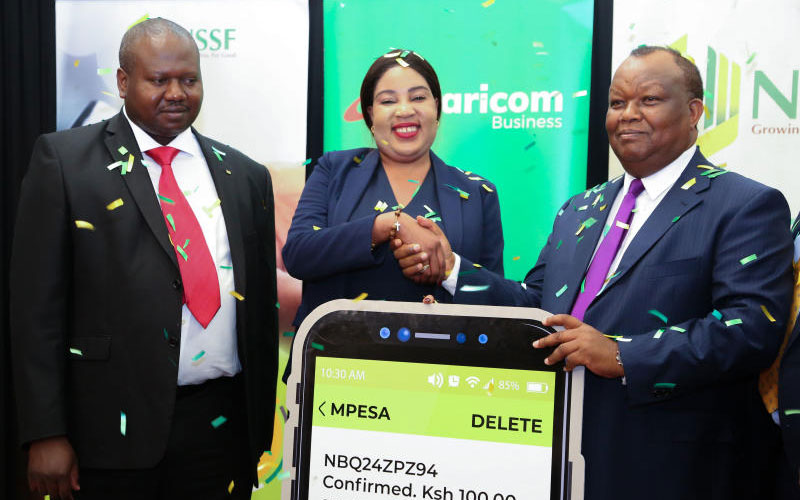 You could soon start paying more in your monthly contributions to the National Social Securities Fund (NSSF).
This is after it emerged the State pension fund and workers' lobbies are nearing an out-of-court settlement over a legal dispute on the implementation of the NSSF Act, 2013 that raised the monthly contributions.
NSSF said yesterday a deal on the full implementation of the Act with the Central Organisation of Trade Unions (Cotu) and Federation of Kenyan Employers (FKE) could be sealed in the next one or two months.
"We are engaged with the other stakeholders, including Cotu and FKE to unlock the Act hopefully in the next one or two months to ensure the worker can realise the full benefits upon retirement," said Gen (Rtd) Karangi, chairman board of trustees, NSSF.
He spoke during the signing of a partnership deal between NSSF and mobile service provider Safaricom that will see members make contributions through M-Pesa.
Cotu and FKE had moved to court in 2014 blocking several clauses in the Act that raised NSSF contributions to 12 per cent of workers' salaries, up from the current uniform rate of Sh200.
Section 20 of the NSSF Act, 2013 require employers and employees to each remit six per cent of employees' pensionable earnings, a move that led to the temporary ouster of Cotu boss Francis Atwoli and his FKE counterpart Jacqueline Mugo from the NSSF board of trustees due to their opposition to the new provision.
Gen (Rtd) Karangi said the Act seeks to spike the contributions from Sh400 to Sh720 progressively over five years and also make a clean break from the provident aspect of the fund and make it purely a pension fund.
NSSF counts only 2.7 million members in its pension register despite more than 12 million Kenyans being actively engaged in the labour force and the fund has over the years sought to widen its reach. Raising employers' and employees' contribution from Sh200 to six per cent of the pensionable income is likely to cause jitters among some employers who already provide a private in-house scheme for their employees.
It also comes at a time when employers are at loggerheads with the State over the introduction of a new housing levy. NSSF has also constantly come under scrutiny over mismanagement of the Sh196 billion fund.
Auditor General Edward Ouko last year queried more than Sh1.7 billion in members' contribution invested in uncertain portfolios, including more than Sh900 million at collapsed lenders - Imperial Bank and Chase Bank.
"According to documents availed for audit, out of the total investments of Sh996 milion, the fund managers have been able to recover only Sh26million from Imperial bank leaving a total balance of Sh969 million outstanding," said Ouko in his audit report.
Karangi said the partnership with Safaricom would make contribution to NSSF easier and effortless as it would allow members do their transactions without visiting banking halls.
"We are allowing NSSF beneficiaries to pay their premiums via M-Pesa which is simple and convenient and saves members time and money," added Safaricom Chief Enterprise Business Officer Rita Okuthe.