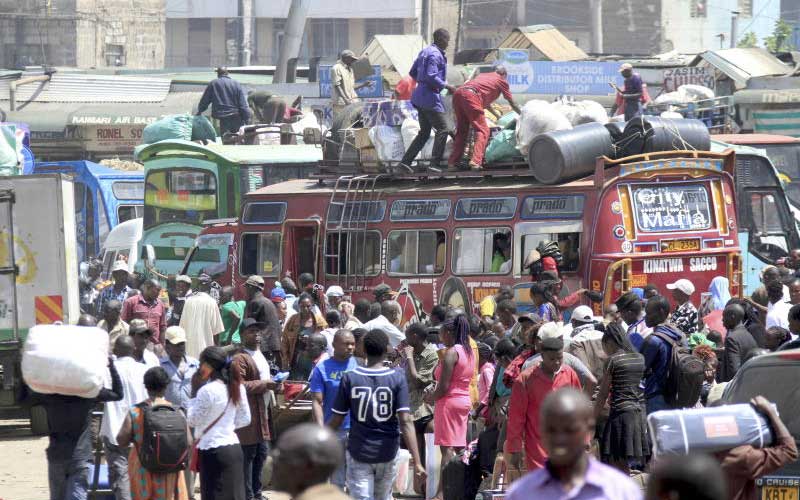 Dorcas Kwamboka, 45, a mother of four who lives in Nyayo estate in Embakasi, Nairobi is an anxious woman.
She woke up at 5am, prepared herself and set off for Transline booking office at Oilibya Petrol Station near Afya House but she was yet to board a vehicle at 11 am.
However, she had not lost hope of traveling to Nyamira for Christmas and also to attend a marriage ceremony.
"Since I came here I have not seen any buses to Nyamira. I hear personal vehicles are charging Sh1,500 to Sh2,500 to Kisii yet I only have only Sh1,000," said Kwamboka.
Next to her was Edwin Omwenga, a network administrator in Dandora and his wife, who arrived at the booking office at 6am.
They were travelling to Kisii to celebrate Christmas with family.
"I have asked and I was told there are vehicles that are coming so I am just waiting to see if I will get space," said Omwenga.
Transline booking office staff had bad news for Kwamboka, Omwenga and other travellers.
The staff announced that they had suspended bookings till December 27 since all vehicles were full.
Long wait
Behind Afya House on Mfangano Street was another pitiful group of travellers camping at Great Rift Shuttle Express offices, some booking while others waiting for vehicles.
Chris Ojwang, who was planning to travel to Bungoma had been waiting for a vehicle since morning.
"I arrived here at 6am but up to now 11am I have not got a vehicle.
"I have been to Machakos Country Bus station and they are charging Sh2,000 which is so high because I normally pay Sh1,000.
"I have no hope of getting a vehicle here but I have to go because I have a long holiday till January 7. I appeal to the government to address arbitrary hike of fare during the festive season," said Mr Ojwang.
Back empty
Philip Lagat, a manager at the booking office, said they have a crisis as the demand was high yet vehicles are few.
"We have increased fares by just Sh200, to Eldoret and other western Kenya towns and we are now charging Sh1,400 up from Sh1,200 but we normally charge between Sh800 and Sh1,200.
"This is because most of the vehicles are coming back empty and we have to recover that fuel," said Lagat, who asked the government to allow more town service vehicles to operate long distance route.
On Friday, National Transport and Safety Authority (NTSA) Director General, Francis Meja and Inspector General of Police Joseph Boinett warned PSV operators against hiking fares.
"We are warning PSV operators that they risk losing their license if found engaging in such acts," Mr Meja said.
Would you like to get published on Standard Media websites? You can now email us breaking news, story ideas, human interest articles or interesting videos on: [email protected]