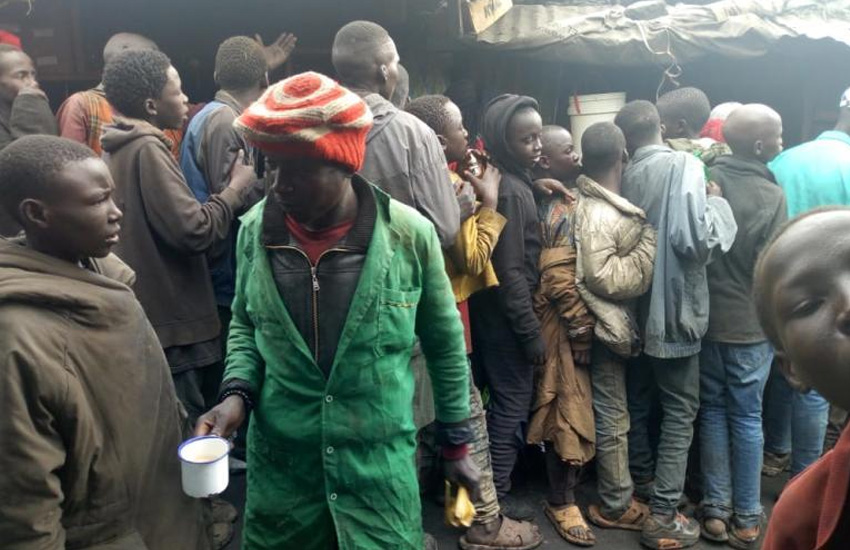 Christmas in Nairobi is serious business. Some are busy shipping their entire households, including sofa sets to the village for Christmas; and the middle-class Kenyans are planning lavish holidays to Dubai and Mauritius. Street children also have big plans for this day.
Their plans are on course and as a matter of fact, "Food is our main worry," says Joshua Mbati, a long-time street dweller and head boy of more than 150 homeless people in Mathare. 
"I can confirm that some volunteers have been cooking for us chapo and beans for the last two weeks and we haven't done too much scavenging in dustbins and dumpsites," said the youthful man who has been in the streets for more than 10 years.
He adds that apart from filling their stomach "we also want to look clean and decent during our annual meeting."
Every year on December 25, street families from different corners of the city converge for their annual general meeting held at the Grogan area or Uhuru Park.
On this day, street families meet to appreciate and motivate each other; a meeting which culminates into a football game at City Park.
This year's plans are on course and their main Christmas wish is to have enough food and decent clothes.
Joshua, who was once based along Grogan area before moving to Mathare where he became the head boy of homeless families, says they too deserve to enjoy Christmas.
In a different part of the city, I found Simon Kimani, a street boy based at Dandora dumpsite.
Kimani is looking forward to sharing a meal with his 'family' before walking to town to mingle with other street families. Kimani who has been homeless for two decades says they are looking forward to eating fresh meals prepared by volunteer organisations or individuals like Peter Nduati who runs the Eye Africa programme. 
"Though not everyone comes to town, we meet up for motivational purposes. We encourage each other as well as share the little we have gathered. We also want to look unique on that day, that's the day we take a bath and wear decent clothes," Kimani told The Nairobian, adding that when street children don their 'Sunday Best,' they look just like ordinary Kenyans.
Kimani explains head boys notify them about various street feeding programmes. One such arrangement is set to happen on Saturday December 22 at Grogan area in Nairobi.
"We hope to be fed and clothed," Kimani said. 
Beatrice Nyambura, an expectant street mother is looking forward to this day, especially the part where her unborn baby gets to enjoy a fresh meal.
"We started celebrating Christmas at the beginning of the month. We eat fresh meals at least three times a week," Nyambura said.
In 2012, Unicef estimated that there were 250,000 to 300,000 homeless children in Kenya, most of them in big cities.
Would you like to get published on Standard Media websites? You can now email us breaking news, story ideas, human interest articles or interesting videos on: [email protected]