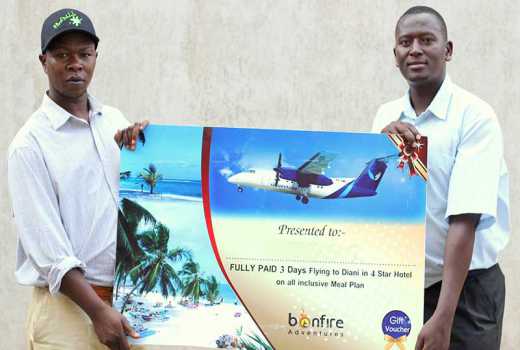 On April 6, the driver and conductor of a Githurai matatu made national headlines after helping a passenger, Philomena Mbithi, deliver her baby.
George Kariuki, and his conductor, Richard  were lauded as heroes after helping deliver baby Raymond Kyalo after his mother's waters broke aboard the matatu.
The baby boy was delivered at the entrance of the bus, right outside Neema Hospital, Thika Road.
"When I turned to look around I saw the baby's head. I was scared but God gave me strength…  I stretched out my hands and held the baby which was almost falling down," Kariuki told a local publication.
Their valiant actions did not go unnoticed and a local travels and tours company has rewarded the duo and their spouses with three-day, fully paid holiday to Diani.
"George and Richard you are a true heroes. Your act of kindness and bravery represents the best of human virtues" stated Bonfire Adventures while rewarding the two.
Mark Steve Great guys and humble…Indeed True Heroes… God bless you all #BonfireCelebratingHeroes
Shery Valentyn Thankyou Bonfire adventures for appreciating this act of kindness and humility...you can only get bigger and better... To the two guys...kwa niaba ya committee ya Mama Racheal.. twasema asante.. Enjoy Diani!!!
Vergy Love Bonfire you never disappoint! Well-deserved George and your conductor God bless you
Kariuki Ti Kudos Bonfire for rewarding the REAL Kenyan heroes.
Winnie Mbesa Congratulations to the driver and conductor. You are good Samaritans. Now waiting our president Uhuru Kenyatta to give them a presidential award on Labour Day.
Wincate Wandiri A good one but I hope it's not just a trip, but something more like a plot or a bus of their own to better their tomorrow
Wakarunji Jane That's good but remember their employer will not pay them for the 3 days adventure so do something else for the sake of their dependants
Agnes Mutwa Faustine For the two.... Your journey to greater blessings is just beginning.... It doesn't hurt to be good. Keep it up