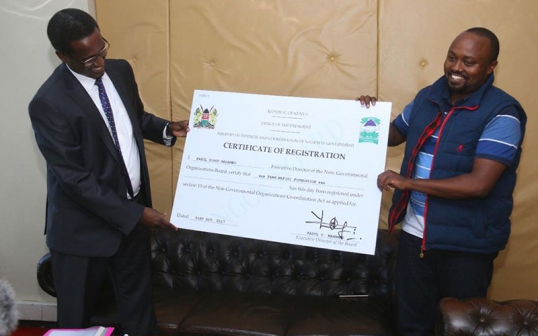 Team Mafisi will now be legally recognised as a foundation after it was registered by the Non-governmental Organisation Coordination Board.
According to the founder and patron, Jaymo Ule Msee (Wilson Muirania), the foundation will be a platform for positive engagement as well as social economic programs to benefit the members. He posted on Facebook after a meeting with the chairman of the NGO coordination Board, Fazul Mohammed.
"Mr. Fazul was very helpful and promised to support us register it as a foundation for free and support us financially in undertaking youth, women, HIV/AIDS, cohesion, and talent search programs throughout the Country. Many thanks to Comrade Fazul for the kind gesture and support," he added.
On his part, Mohammed said that the initiative was a good thing, especially since the term #Mafisi' as he has been told by Jaymoh is tribeless term.
"That one will foster cohesion and integration in the country and from where we sit, we are going to support him in that," Mohammed said.