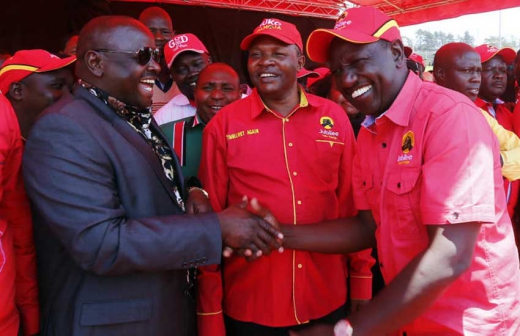 Many politicians in the Rift Valley who have gone against the DP  Ruto are struggling politically
Isaac Ruto tactfully avoided a list of politicians who parted ways with the DP only to end up in the cold
On Friday, he ditched NASA and pledged support for President Uhuru Kenyatta's re-election
Following his decision to join Jubilee, former Bomet Governor Isaac Ruto has tactfully avoided a list of Rift Valley politicians who parted ways with Deputy President William Ruto only to end up in the cold.
Mr Ruto, who fell out with the DP soon after the 2013 polls, lost his governor's seat to Jubilee's Joyce Laboso on August 8 after a defiance campaign for the National Super Alliance (NASA).
But on Friday, he ditched NASA and pledged support for President Uhuru Kenyatta's re-election and this could earn him a political lifeline.
Many senior politicians in the Rift Valley region who have gone against the DP since 2013 are struggling politically.
Among them are former long-serving Tindiret MP and Cabinet Minister Henry Kosgey, his former Aldai counterpart Sally Kosgei, former Roads Minister Franklin Bett, ex-Eldama Ravine MP Musa Sirma, former Cherangany legislator Kipruto Kirwa and former Ainamoi MP Magerer Langat.
They all supported Raila Odinga's presidential bid in the 2013 General Election when the DP Ruto and President Uhuru Kenyatta were also vying for the presidency.
The politicians tried in vain to convince the community to back then Prime Minister because the International Criminal Court (ICC) cases would stand in the way of Uhuru and Ruto.
Retired
Despite much pessimism, the DP successfully convinced the community, which he made to vote for Raila almost to the last man in 2007, to back Uhuru.
Kosgey this year vied for the Nandi governor's seat, but he was trounced in Jubilee Party (JP) nominations in April. Magerer also failed in his attempt to recapture the Ainamoi parliamentary seat.
Sally has since retired from politics to concentrate in her expansive business empire that includes hospitality industry and real estate.
In the just concluded General Election, ex-Governor Ruto and former Kuresoi North MP Zakayo Cheruiyot, who have been vocal against the DP's style of leadership, aligned themselves with the Opposition. They both lost their seats.
Earlier, Kericho Governor Paul Chepkwony teamed up with Ruto to stand up against the DP but later retreated after realising it would be costly.
Observers say going against the DP, who the community now believes will succeed President Kenyatta if he wins the October 17 presidential election, is politically suicidal.
"He is the community spokesperson and a unifying factor. The community will not recognise another," says Kericho Senator Aaron Cheruiyot.
Earlier this week, Ruto affirmed that he was still in NASA, following his long silence since election and rumours that he had joined JP. But he has now made an about turn and gone back home as most people would look at it.
After losing his seat, the governor conceded and handed the office to Laboso.
Ruto has had a frosty relationship with the DP that culminated in an acrimonious fallout. Before the 2013 elections, the former governor teamed up with the DP and formed United Republican Party (URP).
Their warm relationship started to go cold in 2015 when plans to merge URP with The National Alliance (TNA) to form Jubilee Party (JP) began.
Ruto insisted that he, Cheruiyot and others who were URP founders were not consulted. Even after Kalenjin elders reconciled the two, the ceasefire did not last.
Ruto and DP since then clashed in public, with the latter promising to teach his nemesis a bitter lesson. The lesson was his thrashing by Laboso by a big margin.
But the ex-governor claimed he was rigged out by those opposed to his brand of politics, led by the DP.
Intimidated supporters
"The government deployed heavy security with briefs to ensure I was defeated. The security also intimidated my supporters and agents, forcing most of them not to come out and vote and to ensure all was well in the polling stations," Ruto said in a recent interview.
However, the two hitherto arch rivals can now read from the same script and will campaign for President Kenyatta's re-election in the repeat poll now 36 days away.