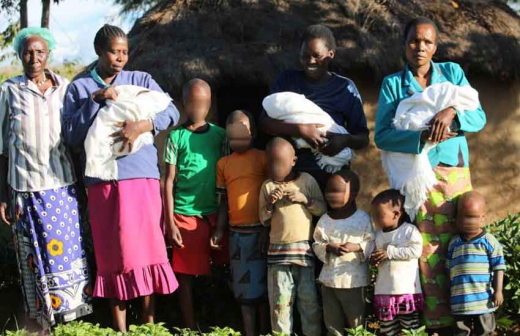 Winny Chebet Ng'etich gave birth to triplets while preparing to cast her ballot in Uasin Gishu County
She had wanted to vote for Governor Jackson Mandago, County Woman Rep-elect Gladys Shollei, and Turbo MP-elect Janet Rotich
Chebet Ng'etich decided to name her triplets after the three politicians
A mother of six who gave birth to triplets while preparing to cast her ballot has named the children after the winners of the August 8 elections in Uasin Gishu.
Winny Chebet Ng'etich, 36, gave birth to a boy and two girls and named them after Governor Jackson Mandago, County Woman Representative-elect Gladys Shollei, and Turbo MP-elect Janet Rotich.
Chebet said she named her children after the leaders because she believes they are going to do their best for the community.
"We had agreed with my husband to vote for Mandago. As for Gladys, I think she is going to defend the rights of women. I wanted to vote for Rotich because she was an underdog in the elections," she explained.
The now mother of nine did not vote as she went into labour a few hours before the polls opened.
When The Standard visited Kaptich village, about 10km from Eldoret town, Chebet's home was filled with people who had turned up to congratulate her.
The women were dancing and singing praises to God: "You are God of gods; you have shown the world that you can take care of the poor, like this woman, who is slender but could hold the weight of three babies. It's wonderful, not only to the people of Kaptich but to the entire Uasin Gishu."
Chebet, who has one set of twins, said she was surprised when an x-ray showed that she was carrying triplets.
She informed her husband that she wanted the children named after the three leaders.
"I could also not believe my eyes when the nurses informed me that I had successfully given birth to a boy and two girls. What came to my mind were the names of the leaders I had wanted to vote for during the the General Election and I asked my husband to name the children after them," Chebet stated.
She named the children Abel Kibichii-Mandago, Angel Cheptoo-Gladys and Abigael Cheruto-Janet.
The names of her other children are Junior Kiprotich, 13, Idah Cheprotich, 9, Kelvin Kiplagat, 6, Michael Kipkurui, 4, and twins Diana Chepchumba and Elvis Kipchumba, 3.
Despite her joy at giving birth to the three 'leaders', Chebet is worried that she might not be able to feed and clothe her large family.
"My worry is how I am going to feed them. My husband is a casual labourer and he cannot afford to take care of these children and myself.
We have been getting assistance from neighbours. But do you think they are going to help me for long?" Chebet asked. Her husband, Mr Samson Ng'etich, is a former teacher.
"Can you please do something to ensure that these God's creations grow up just like other children? Please, just help me or pass my message to wellwishers so that the children don't die of hunger," she pleaded.
Government land
A former chief of Kiplombe location, Sammy Kosgei, who was among those who thronged Chebet's home, said the villagers have been trying to help the family, but the assistance was not enough.
"We are staying on government land. This woman and her husband don't have land where they can plant maize and other food for survival. We usually see people donating food to other needy people. Please tell wellwishers about this," he said.
The woman's mother in-law, Chebet Keino, said there is a history of twins in her family.
"Don't take this issue as a curse because my son's grandmother and even my daughter-in-law's grandparents also gave birth to twins, so it is not something new to us," Ms Keino said.