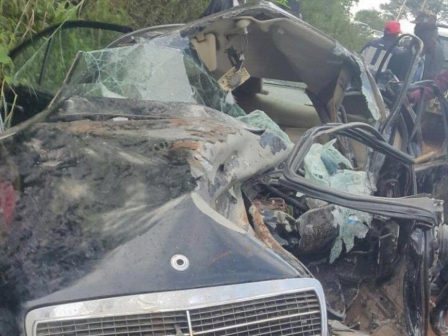 They need your help, but first they need to get well.
That was Dennis Onsarigo's plea on his Facebook account. On it, the KTN Casefiles journalist narrated the harrowing yet touching incident he witnessed over the weekend. 
"It has been a few days since I pulled out-with the help of other good Samaritans- three youngsters trapped in their father's black motor vehicle. The youngsters, hardly ten years old were shaken, some were badly off," he said on the post.
According to Onsarigo, the vehicle carrying 2 adults and 3 kids was involved in an accident with a Canter lorry along Kiambu Road.
"When I arrived there, the scene was chaotic, the mother, clad in her hijab was trapped in the passenger seat. I couldn't see her face but I could feel her pain, her slow but painful bouts of wailing struck me so hard. Right behind her seat was her daughter, she was the oldest among her children, she was screaming for her mother, we were struggling to keep her calm, at times our shouting for a metal bar to free her from the car, drowned her screams. She was scared and terrified," he continues.
The family was rushed to Getrudes Hospital along Muthaiga where the kids are now doing fine while the father is still in a coma.
Sadly, the mother died at the scene.  
"They are fine. But they need your help, first they need to get well soon, then we must tell them the story of their mother and father. Then tell their father who is in a coma the story of his wife and his daughters. It is a tough place to be in as a father and husband.
But of immediate importance is their growing medical bill. If you've been touched, don't hesitate to go visit them, or support them.
A brother to the mother of the youngsters gave me this account number:
SABRA KHAN,
DTB BANK
5109532001
Nation Centre Branch
You can as well call Shaheen's sister (the mother to the young girls) – Sabra Khan-0722472166. And the kids would love to have you visit them.
Read the full post here