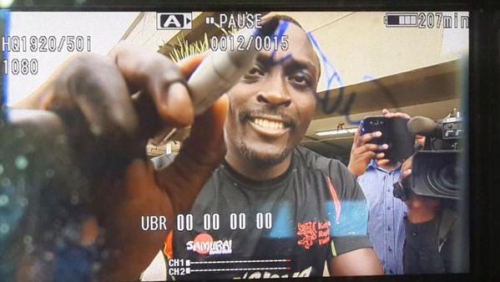 On Sunday 17th Collins Injera made history as he scored his 200th try on the World Sevens Series in London. Being a worthy achievement in the sport,he decided to commemorate it in style: He signed a camera lens reportedly destroying the Ksh 9 million worth of equipment.
Injera was at it again at the airport when the team jetted back to the country on Monday. This time, he took his autograph skills to the Supersport camera lens.
The cameraman unlike the one in London, was not so tough on him,allowing the exuberant player to do his thing.
 The Kenya Sevens posted a photo (above) and captioned it
 Still at [email protected] signing off the 2014/15 season.
Clearly his signature was a good way to sign off from the rugby World Series season after mixed results from the tournament.
They ended the season on a positive note as Kenya Sevens brought home the Bowls trophy after beating Argentina in the finals.