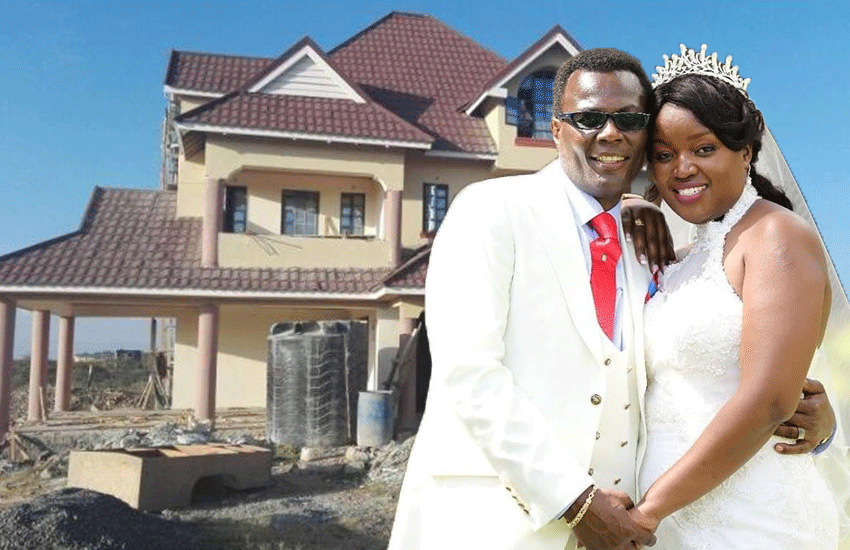 A popular preacher who parted ways with his pastor wife three years ago has married another pastor.
Reverend Michael Musango, formerly a senior pastor at the House of Grace church in Athi River but who now runs his own Fountain of Grace Ministries, took a second walk down the aisle with Mercy Wachira last December in an invite-only wedding held in Nairobi.
Musango and Evelyne, his first wife of 20 years, parted ways following claims that he was secretly 'worshipping' Rev Mercy Waruguru Wachira who runs the Agape Lighthouse Church in Kasarani, Nairobi.
Evelyne had also claimed that Musango made Washira co-director and majority shareholder of a company that owns part of the family property, adding that the man of God also threw her out of their posh Lukenya home.
Read Also: Pastor's three wives collaborate to search for fourth wife
After the top-secret wedding attended by, among others, House of Grace founder Bishop David Muriithi, the new couple shared their love to the world by changing profile details on their social media accounts, seemingly to begin the New Year with new things.
On January 1, Mercy dropped the name 'Wachira' and replaced it with 'Musango' with an accompanying profile photo of the two holding each other in the form of the universal symbol of love to demonstrate their burning passion for each other.
Notably, the man of God made another telling statement with a post on January 6, gushing, "…and it is a great journey…" and further replaced his cover photos with Wachira's.
"If any two of you shall agree on earth touching anything that they shall ask for in prayer, it shall be granted them of my Father which is in heaven. We all need a prayer partner. I have mine," read an earlier post by the smitten pastor.
Read Also: Exposed - How preacher's son made Sh2.7 billion fortune
Before parting with his first wife, Musango had denied having a thing with or introducing Wachira as a shareholder in family properties.
"In fact, the complaints that were made at Athi River Police Station are all lies that were made up to fix me!" he said at the time.
Following their tussle, the mother church, in a letter dated March 9, 2017, and signed by the lead bishop and founder of House of Grace, Bishop David Muriithi, sent the two on compulsory leave following deliberations at a board meeting at the church headquarters.
Read Also: Pastor - I've not had been intimate with wife for 16 years
The letter informed the couple (Michael and Evelyne) that the compulsory leave was meant to help them "address unresolved issues in your marriage that have gone on for years and have affected the church in a negative way.
"As per your request in the meeting, your sabbatical will begin on March 7, 2017, and you will be expected to report back on July 6, 2017. While on your sabbatical, you will be entitled to your monthly salaries," the letter further stated.