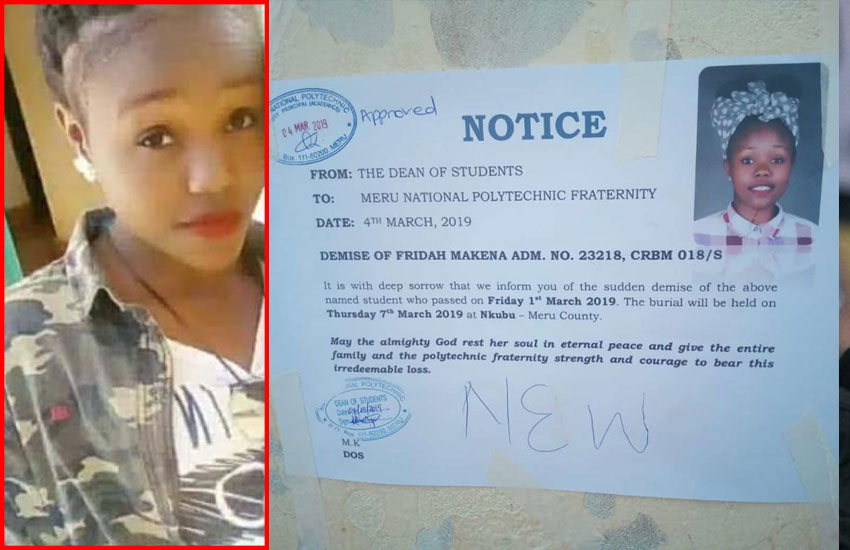 Students at Meru National Polytechnic are mourning the death of Fridah 'Velma' - a second year business management student.
The school dean Mbaambu Karanga confirmed the death in a communication to students.
Fridah is alleged to have committed suicide by swallowing pills over love.
"It is with deep sorrow that we inform you of the sudden demise of the above named student who passed on Friday, 1st March 2019. The burial will be held on Thursday 7th March 2019 at Nkubu, Meru County," read the notice released by Karanga on March 4, 2019. 
From the messages Velma left behind, it was crystal clear that she committed suicide after her lover - also a University student - left her for another woman.
The suicide note read: "Thanks for everything. You're indeed a great person. I am sorry for everything. You have always wanted the best for me. I am very sorry but I can't take it anymore. Kelvo is the last thing I wanted to lose," Velma wrote to her friend.
The suicide message continued to read: "There's no life without him. Suicide was the last thing I ever thought of, but I give up. All the best and please don't miss me." 
Velma had visited her boyfriend on Friday February 22, 2019 for a party and she was supposed to return to school on Sunday, but she opted to stay longer. 
"They had relationship issues before, and he asked Velma to travel to Nairobi for his party where they would mend issues, something that Velma agreed to because of the much love he had for him," a friend to Velma - but who sought anonymity - told Campus Vibe. 
She wanted to confirm whether it was true that he (her lover) had moved on with another lady.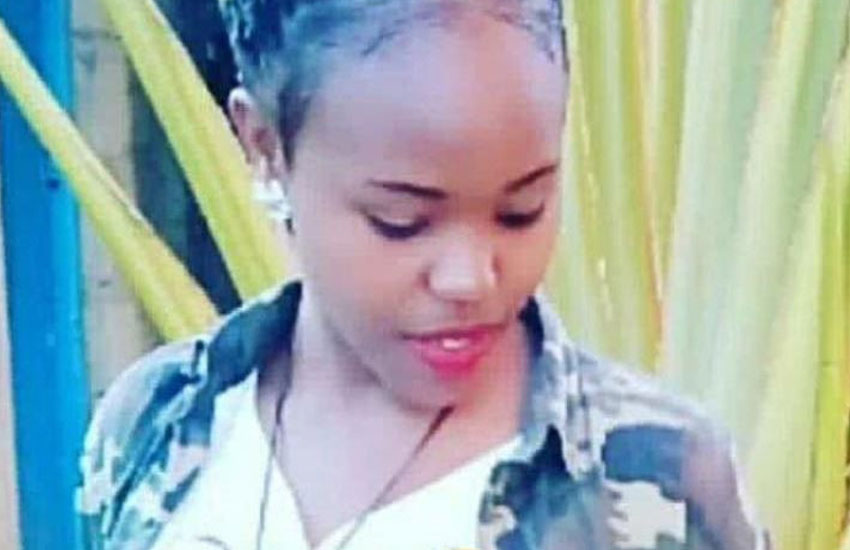 Her 'over-stay' at the boyfriend's place was therefore meant to also have bonding time after solving the wrangles that had rocked their relationship. 
"She had heard of rumors that he was seeing another lady and decided to buy more time to prove it," she said. 
That Monday night, after the party, she went through Kelvin's phone and found messages showing that he was dating another woman. 
According to Velma's friends who spoke to Campus Vibe, she omitted suicide after the boy went ahead to make out with the new girl at a house party they had all attended in Narok the previous weekend.
Velma's friends say she was a great singer and was jovial, sociable all through her campus days.
"She had a kind heart and I never thought she would commit suicide. She was frank - and we all knew she was dating, but her condition worsened after the heart break," her friend told Campus Vibe. 
Dr Bill Ouda, a psychologist, says that ladies often develop deep love for men as time goes by in a relationship - unlike men who start at a high level and later on decrease.
"Ladies start at a low pace but later invest more in the relationship, but men will start at a high but later go low," he said. 
Dr Ouda says Velma may had invested more in the relationship - and so felt betrayed when he took a walk. 
He said: "Velma might have carried the bigger picture of getting married and living happy with the man of her dreams - but felt betrayed.