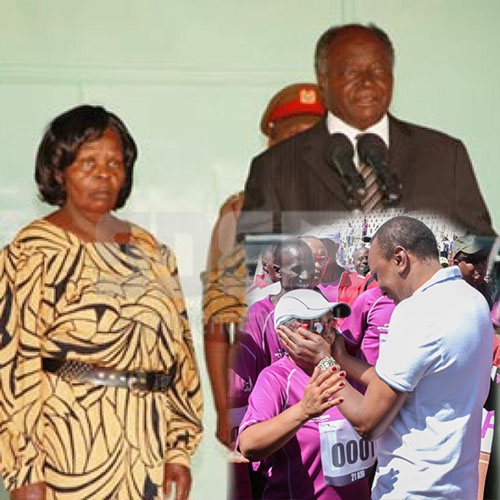 President deported minister's wife
Mzee Jomo Kenyatta was always seen with First Lady Mama Ngina Kenyatta by his side in most state functions.
An old school politician, Kenyatta had no qualms with politicians parading their wives. But most were rural women with challenges in the dress code and social manners department. Nyiva Mwendwa, the exposed and flamboyant wife of Attorney General Kitili Mwendwa was the one picked to style up these rustic characters of men in Kenyatta's first cabinet and make them look presentable while having afternoon at State House Nairobi.
But public display of madharau was a no no for good old Jomo.
Dr Julius Gikonyo Kiano, the Minister for Labour had an African-America wife, Ernestine Hammond- the tall, heavy-browed and fiercely outspoken woman whose drunken drama queen stunts in Kenyatta's presence got her deported for having "shown herself by act and speech to be disloyal and disaffected towards Kenya!" in 1966, the year Kiano also married Jane Mumbi that June!
Political wives were never seen or heard
Dr Josephat Njuguna Karanja, Kenya's fourth Vice-President from 1988 to 1989 suffered the ignominy of showing off his stunningly cute and well educated Ugandan wife at a time when political wives were hardly seen or heard. Besides accusations of consorting with Western powers to bring down the Moi administration, his having a 'foreign' wife was employed as part of the propaganda campaign that brought down his career at a time when political wives were hardly seen or heard.
I have only one wife
The wife of Kenya's third president, Mwai Kibaki, was the most visible First Lady who provided entertainingly embarrassing public sideshows: storming out of the 2003 New Year State Ball for being called 'Second Lady' by former Veep Moody Awori, besides forcing the 'State of the Nation' address in which President Mwai Kibaki declared 'I have only one wife' after a series of a newspaper articles and TV bulletins Nyeri MP Mary Wambui as Kibaki's 'Nyumba Ndogo.'
In 2007, a State House functionary was issued with a public military slap and transfer after calling out Mama Lucy Wambui instead of Lucy Kibaki!
It is PDA galore for President Kenyatta II
President Uhuru Kenyatta and First lady Margaret Kenyatta are the Barack and Michelle Obama of Kenya for their Public Display of Affection accentuated by on camera chemistry.
The other public figures who are perennially paraded with their wives include Raila Odinga and wife Ida and the inseparable Pastors Kathy and Allan Kyuna the Jubilee Christian Church.