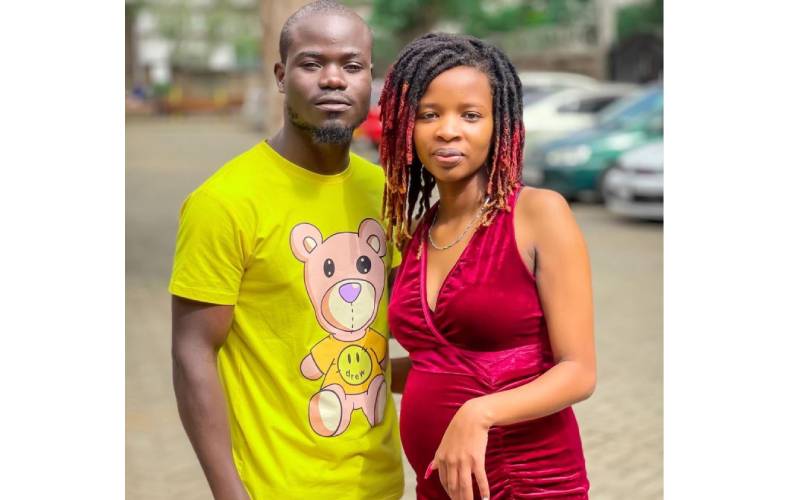 Celebrity couple Mulamwah and actress Caroline Muthoni, popularly known as Carrol Sonie are seemingly enjoying every bit of their pregnancy since finding out they are going to be parents.
The two, judging from their social media posts have not shied away from sharing their joy with the world.
A section of naysayers has however come out to caution the comedian against constantly posting about their pregnancy, claiming they are overdoing it.
"Brother, can you please stop over announcing your pregnancy?" Wrote a social media user.
In response, Mulamwah asked the fan why they view his posts yet he never asked them to visit his social media pages.
"I have just posted a picture, like any other Kenyan. My question is, who asked you to view my page? Is there a pregnancy of yours missing?"
This is however not the first time Mulamwah has had to fight off critics.
The comedian was recently silenced after trolls asked him to take his wife to the salon to redo her dreadlocks.
"We do dreadlock retouch," a netizen commented on one of Sonie's pictures, to which Mulamwah responded saying, "Just continue doing."
The couple surprised many of their fans with news of their pregnancy, almost immediately after getting back together from a year's split.
Announcing the news via their respective social media pages, Mulamwah expressed his hope and gratitude in the new phase of life.
"We thank God for the blessings, may He see us through to the end as we open a new chapter in life @carrol_sonie 17/42," wrote Mulawah.
"It has been a journey full of fear and ups and downs, but I thank God for this far… kufika tu hapa is a miracle. We are at 17/42 weeks. May He see us through to the end @mulamwah," wrote Sonie.
In April 2020, the couple opened up on losing their unborn baby, describing the period as depressing.
"I remember when I told Mulamwah the news; he was depressed, he could not control himself. The same happened to me - I broke down each and every time I saw a baby, it was that bad," said Sonie. 
She added, "I thank my friends who came to the hospital to see me, I appreciate your love. I am recovering and everything is back to normal."