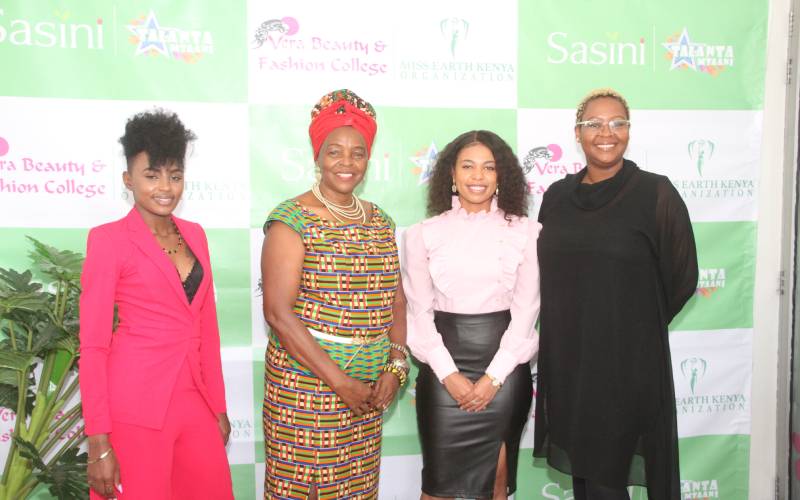 Contestants participating in the 6th Season of the Sasini Talanta Mtaani Show are up for a good treat with purpose. This is after the signing of an MoU with two more partners. This will see an advancement of the show's agenda in promoting talent amongst the youth while advocating for a healthy environment for future generations. The agreement which was signed yesterday will have the inclusion of Miss Earth Kenya and Vera Beauty College.
Speaking during the signing of the partnership agreement, Vera Beauty College CEO and National Director Alice Kamunge expressed her excitement in the partnership.
 "As an ambassador championing for the conservation of the environment and climate change management, we are more than glad to be a part of this partnership that will help drive towards the global environmental agenda. Since childhood, I always had a passion for taking care of Mother Nature while living on it. For me it's a noble duty that I vowed to advocate for," she said.
 Having been named an Ambassador for Peace, Water and Sanitation, Mrs. Kamunge emphasized that it should be everyone's role to combat climate change campaigns and be a friend of the earth.
 "Let's strive to make the earth a better place by adopting an environmentally friendly lifestyle and protection of water resources," she added.
Sasini Talanta Mtaani Director of Operations Marilyn Nduku echoed her sentiments adding that season 6 is centered on protecting the environment and catchment areas.
 "Our demographic trend is towards a younger generation hence upholding the need amongst them to plant trees, take care of the environment and consequently agriculture will hit home well because it's good for planet earth in generations to come."
As a tea and coffee producer, Sasini, intends to reach out to the youth in changing their perception about farming. A healthy and productive environment will consequently facilitate a business opportunity to empower them in wealth conception and creation of employment.
Vera Beauty College will on the other hand facilitate hair and make up for all the judges, host and contestants during the production of the show.
"Partnering with Vera Beauty College to make this season extra special by infusing such additions will be something to lookout for. Indeed, we cannot wait for our audience to see what we have in store for them," adds the Talanta Mtaani consortium CEO Maurice Okoth.
The Sasini Talanta Mtaani show, which airs on KTN Home has already rolled out its nationwide auditions in search for talent.