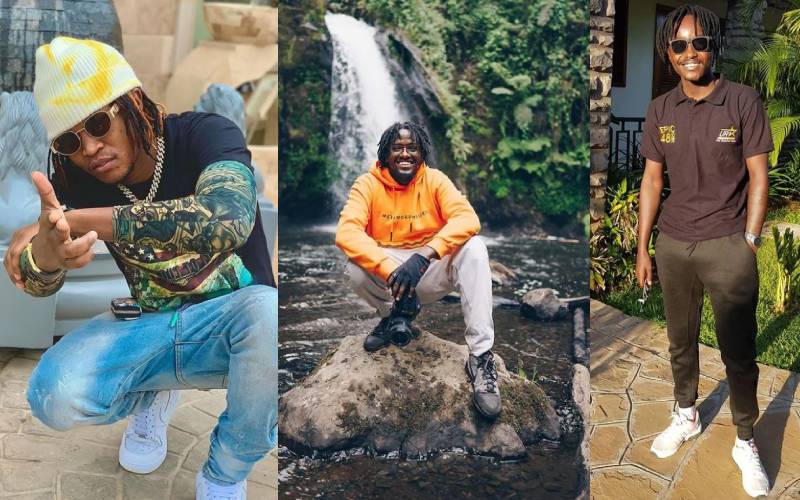 Quality music videos are not necessarily decided by numbers or a big budget. Today, trends suggest one can score numbers on their music video by buying views or even just having a likeable personality, and that will be rendered as 'QUALITY'. On the other hand, people can spend enormously on budgets for music videos and still not have a distinguished work of art.
Kenya's music video landscape is coming of age, and despite challenges in the industry, a few trendsetters go out of their way to deliver iconic craftsmanship that pushes the culture in a forward trajectory. There are a few underground and commercial heroes that are cementing Kenya's status across the music video spectrum. They may not be the usual faces you are used to, but they are changing the scene and diversifying the craft.
Chebeni
Having dazzled through his works with the likes of DEZ, Tokyo Sauce, Trabolee, and a slew of others, his works seem heavily invested in the Shrap department of things. Unlike most directors, he handles all stages of production, from the pre to the post. He is almost a ghost-like figure and prefers his work to take the spotlight rather than himself. His magnum opus works such as the popular first under-water Kenyan video for Jovie Jovv & Tokyo Sauce's 'Foreign Freestyle' are but some out-of-the-box offerings he commits to. He is known for his use of a retro film camera, and this is his preferred mode of excellence, easily separating him from the pack. His music videos for DEZ especially stand out from the crowd.
Omoke
The current star of the moment in Kenya's music video director's class, Only Omoke, is the latest custodian in music video direction taking 254 by storm. Some notable works are the grungy Buruklyn Boyz visuals for Nairobi, to Luku by Khaligraph Jones ft. The Industry, on to Kahu$h's Sana Up, Omoke conjures up a name for himself in urbantainment.
Tony De Gigz
Providing clarity, lighting, and accurate coverage of Nairobi's inner-city portrait at this and any point in time is fundamental, and this is what makes Tony's art unique and relatable. Capturing the Eastland's culture through multimedia, by one of their own, Gigz gives a zeal perspective to his works in that the narration is from an insider's lens and not from an outsider looking in. That sharpness and authenticity lacks when someone not familiar with the semantics and dynamics of a culture comes and does it, and that becomes appropriation or 'culture vulture'.
Roadman
Rodney Wachira is Sol Generation's golden egg video director that we are just getting hip to. After his unsolicited brilliance on Bensoul's 'PEDDI' motion picture that carried us through an ominous 2020, he covered our appetite for extraordinary visuals on Nviiri's Birthday Song. Most times commercial music videos are always tongue and cheek cliché products that we as fans want to see, but rarely do they exceed that expectation and give us a blend of the artiste's vision and what we need to see. Roadman's execution is great, and his ability to visualise sonics is clinical. Niko Sawa visuals between Nviiri and Bien was also a masterpiece and this continues to promise that Roadman is in to bring nothing but more greatness.
FRNCK
It is almost certain we will never live to see a whack Chris Kaiga video, reason being his side-kick videographer, known simply as FRNCK, is an amazing colourist that leaves no room for error. Amazingly, Chris has been in the music industry well over 10 years, but after figuring out his sound, 'Debe', did we only embrace him. Clearly, great things take time. It was not only his sound that he mastered however, but he also discovered this gentleman was the missing piece to his image, and since then, Niko On, Zimenice and Chain Chain are some of the records that have elevated Chris to the helm of Kenyan folklore. Chris only wants an inside job, and introduced his shooter to Kahu$h for their 2020 smash, Mastingo, hence why the video was warmly accepted, further enhancing the reputation and adding some few commas to FRNCK's asking price.
CJ Pixels
Transitioning from a photographer to a filmmaker or cinematographer can be a daunting task. But when CJ Pixels tries it, he quashes the naysayers, gets on his bicycle, and rides it to the very end. In 2021 alone, his productions include the aesthetically supreme EASY soundtrack by Zimbabwean Gemma and Kenya's Chimano, the electric Jam Now Simmer Down single by Blinky Bill, and a superb debut single video to DJ Ally Fresh's HUTIA featuring Mura The DJ and Ayrosh. He quenches the urgent thirst of Kenya's cultural appeal through his visuals, and this is breathing an appreciation for Kenya's visuals, culture, performers, and geographic palette through the visual dissemination of CJ.
Nezzoh Montana
The man behind Shrap god Boutross' Yea Yea Yea eyegasms and Full Kisunzi by Don Lobos KRG Don and the OG Khaligraph Jones is none other than the multitalented Nezzoh Montana. Nezzoh makes videos pop, and has the ability to make any artist look like certified stars through a single music video. His star continues to shine as he carefully transcends into the music business. Apart from the above projects, he is also known as the man behind a couple of videos such as Vidole and Haina Budi by Eko Dydda, which was nominated for Groove Awards 2016, Best Gospel Hip Hop Video. He has built himself a catalogue of over 100 music videos.