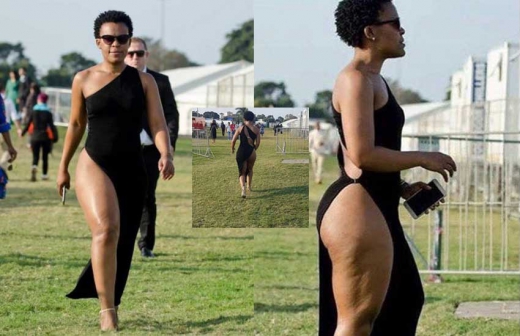 South Africa's top of the charts dancer Zodwa Wabantu has come out guns blazing after she was trolled for her near nudity antics in Durban.
Wabantu defended herself that her revealing dress with no underwear went too far at the Durban July dress event over the weekend.
She told the Daily Sun that even though people called her a prostitute and compared her thighs to those of a chicken, she would not allow the negative comments to break her.
"People said I was a prostitute and compared my thighs to those of a chicken. But I won't be brought down by these comments
"I am a role model for a lot of people. People are able to face their challenges because of the example I set," said Wabantu.
Wabantu, reputably the most popular and renowned dancers in SA added that behind the dress and her dancing craft was a woman with brains and she had in fact landed a branding deal with an energy drink company.
Social media users in SA were not impressed and were up in arms after photos of the dancer in a revealing dress with seemingly no underwear surfaced online.
Wabantu became an instant sensation when pictures and videos of her dancing at Eyadini Lounge in Durban went viral in SA.
Related Topics